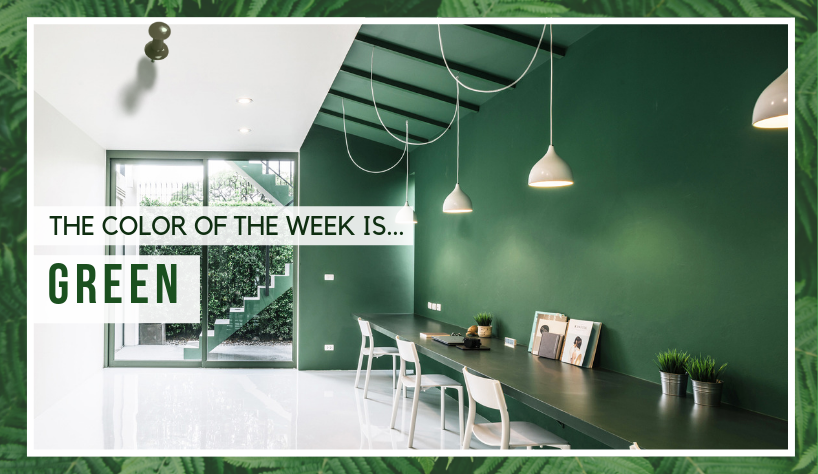 We know this might be hard in theory, but is it?
Good week everyone! We are starting the week a day later, so today you have double articles on the blog! We're always making it up to you. This week is going to be a little bit different because we decided to challenge you to style green decor ideas for the whole week. Are you able to do this? We're in this together, let's make this week happen!
---
Green All Over: FIND OUT NOW, WHAT SHOULD YOU DO FOR YOUR BATHROOM DECOR
---
Today we felt inspired by the Portuguese magazine 'A Maria Vaidosa' Instagram, that has been posting on its feed by color. Purple, pink, blue, green, red… They have it all. But we decided to start with the most challenging one: green color! On fashion, on your house, on your food, green can be a really tough color to pull off, but not for us, or for you!
This week we are wearing green and styling green in every single thing we wear, own and do!
Let's not just stop at wall paint. You can update your home decor without painting your walls, and instead of updating fixtures and furniture in a variety of shades of green.
Update your living space with a fun lime green couch cover for a pop of color that stands out, paint your kitchen island a warm shade of green for a timeless look or refinish an old cabinet or furniture piece to spruce up your space with little effort.
Don't be afraid of the dark with this dark green office. The bold color in the office really adds a natural touch with the shelving and additional wall decor really popping. This office space provides a modern, yet traditional mix of elements with the natural wood flooring blending perfectly with the captivating green wall.
What about green in fashion? Sometimes when you search for 'green fashion' the results show you a sustainable brand that is eco-friendly and not regular green clothes. However, you can have the best of both worlds. You can dress a green eco-friendly piece. This image specifically is not Sustainable Fashion, but it shows you perfectly the description we gave you about this whole concept.
Decoration with plants is also a very smart way to put green inside your home decor. Give your minimalist space a pop of color with a little botanical focal point. This simple wall feature adds color to this otherwise basic white living space and by adding a few additional green accent pieces like the magazine tray and plant it really ties the space together quite well.
What about the food? When you think of green food, what's probably floating in your mind is salad, green beans, and all healthy. What if we told you, you can eat these good-looking donuts made of matcha? It's delicious, it's green, and perfectly fits your Instagram feed (no pun intended)!
Our Green Choice
Who's down to try this challenge? Share your experience with us, here 👉 @bloglightingstores
---
Green All Over: DESIGN TRENDS THAT HAVE BEEN POPPING IN THE USA AND YOU SHOULD KNOW
---
If you loved our article about We Challenge You To Style Green Decor Ideas For A Week, you can find out all about these decoration inspirations and the best lighting designs with DelightFULL's latest 'The Ultimate Guide – Isaloni 2019' Ebook! Visit us also on Pinterest and do not forget to come by every day, we will have the best lighting suggestions for you and your home!