High-End Furniture Design Combined By The Best Ones In The Field!
It's not particularly new that some of the world's best interior designers collaborate with some high-end furniture brands. That has been happening for a while now. It's a win-win situation. The brands get the recognition they seek and the designers get to express themselves in ways they don't often do. These collaborations result in mega successes, no matter how much time it passes.
---
You should Read: DESIGN TRENDS THAT HAVE BEEN POPPING IN THE USA AND YOU SHOULD KNOW
---
David Rockwell and Stellar Works
Rockwell Group took inspiration for this furniture collection, part of Stellar Works' Collaboration Series, from the roots of the word valet, reinterpreting it for the 21st Century. A new furniture typology, Valet supports everyday living, working, and entertaining. From lounge seating to customizable shelving, each of the 14 pieces in the collection has a streamlined functionality.
Each piece in the collection has luxurious embellishments, from leather cords to matte brass hardware, that double as subtle tools for living well.
Mary Mcdonald and Chaddock
Anyone who caught Mary McDonald's star turns on the Bravo show Million Dollar Decorators knows that the Los Angeles designer is not one to hold back an opinion. Quite simply, she likes things done her way. So when the furniture company Chaddock offered her an opportunity to spread the design gospel according to Mary with a namesake collection, she didn't hesitate. "I've been creating furniture for myself and my clients for as long as I can remember," she says. "This was my chance to bring those pieces to a larger audience."
The comprehensive 53-piece collection is infused with her hallmark style, bringing golden-age Hollywood glamour to centuries-old stalwarts—, particularly Greco-Roman and Louis XVI forms. Another inspiration, McDonald says, is Malmaison, the Empire-inflected country house of Napoléon and Josephine. "I love every last detail there, especially the campaign furniture," she adds. "I try to go every year." She also admires the work Stephane Boudin of Jansen did for the Kennedy White House.
Thomas O'Brien and Century Furniture
For decades the acclaimed New York-based interior de­signer Thomas O'Brien has been acquiring vintage and antique furnishings that have caught his eye on trips to England, France, Japan, and points beyond. Much of this beloved trove—which, O'Brien notes, includes "quite a few orphan chairs and bits and pieces of things"—ended up in storage. Hoarding, though, it's not.
Everything in the collection is meant to mix and match, not only with one another but also with homeowners' existing furnishings. And each of O'Brien's creations comes with a compelling backstory. "A history does make things better," he says.
Bunny Williams Home
An expression of legendary Interior Designer Bunny Williams' creativity and distinctive aesthetic, our collection consists of reproductions of her own treasures as well as original designs that are essential to one's home. Mixing the collection with your own favorite pieces is how it is intended to be used and adored. These are classic pieces that will withstand the test of time and we invite you to enrich your surroundings and reveal your own personal style.
Be sure to visit our newly launched showroom in NYC (The Fine Arts Building, 232 East 59th Street, 3rd Floor). Here you'll find the entire Bunny Williams Home collection in addition to vintage one of kinds, artwork and decorative accessories. The showroom is open Monday through Friday, 9AM-5PM and Interior Design services are available by appointment.
Yabu Pushelberg and Stellar Works
Compact in profile and scale, this light, playful and sculptural collection lends itself to both residential and commercial applications.
Though Blink has a distinct personality and distilled modernist quality, pieces from this collection can coexist or live independently amongst other styles. The materials have been selected to create considered contrasts from texture to texture and surface to surface.
Marmol Radziner Furniture
MARMOL RADZINER FURNITURE is a natural extension of Marmol Radziner, a unique design-build firm known for attentiveness to detail and finish. Marmol Radziner Furniture offers collections designed and built by architects. Their wood and metal shops are run by craftsmen concerned with the smallest details and the broad view, allowing for a line of furniture with a clarity of design and integrity of construction.
Made between factories in North Carolina and Indonesia, the collection is meant to evoke the laidback lifestyles of sun-worshipping sophisticates dwelling amidst the tropicalia and desert climes of the canyons above Hollywood and Beverly Hills. Consider it the merger of Marmol Radziner's salt-aired hard modernism with McGuire's Asian-influenced soft luxury: sleek spins on classic Danish design via dining chairs, bar stools and beds rendered in tea-stained or blackened paper cord with white bronze accents set into futurist solid oak posts and legs; plush sling-back settees and lounge chairs framed over rattan-wrapped oak casework; silo-shaped bronze side tables with blackened-steel accents and mirrored tops; and hand-carved solid-oak cocktail and dining tables with edgeless slopes meant to mimic those in the titular L.A. canyons.
Hirsch Bedner Associates and Decca London
Aside from creating pieces for their own Eat + Sleep 2018 stand, Decca London also collaborated with Hirsch Bedner Associates (HBA) to create a few pieces of furniture for their stand and the results couldn't be more exhilarating.
HBA designed their stand in collaboration with the Natural History Museum in London and you could see the most beautiful natural products decorating every 'room' of their gorgeous space at Sleep + Eat 2018.
Jonathan Adler and Amazon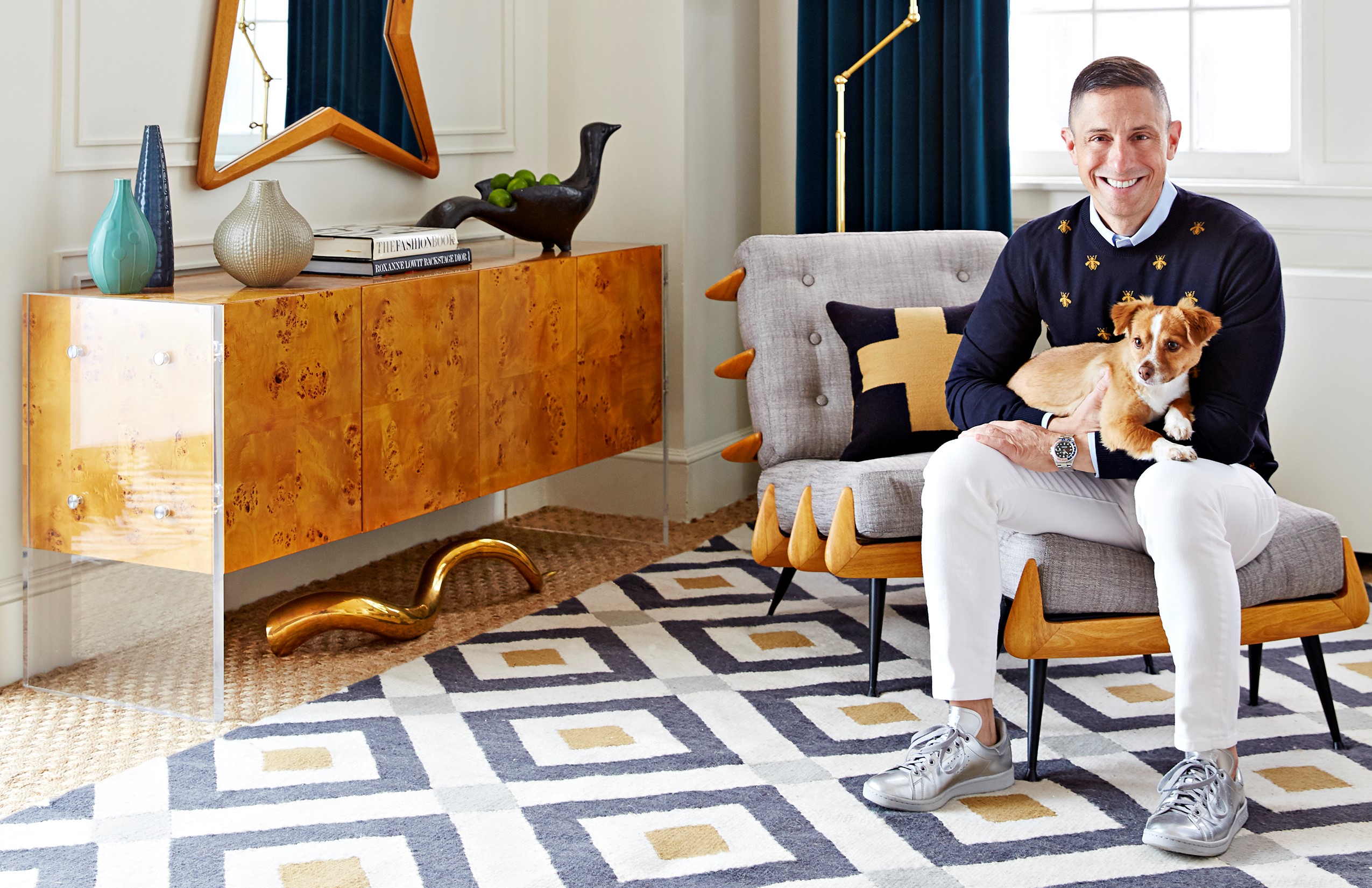 Now House by Jonathan Adler is a full line of furniture, decor, and bedding featuring unique and stylish pieces at Amazon-appropriate prices. In making luxe interior products more accessible and convenient to shop for, the collaboration opens shoppers up to a world they previously dismissed as out of their price range or that which resembled more "aspirational fantasy," less "real-life look-book."
On the Now House Amazon page, you can shop by product category, curated looks, and rooms. Looks like WFH: Work From Home embolden you to forget you're even working by advocating pops of color or tables with futuristic grooved legs, while the satisfying geometric precision of All Lined Up reminds you that black and white really won't ever go out of style. Or, create an entryway your guests will remember and a bedroom to gladly retreat to every night, in just a few clicks.
EJ Victor and Kelly Wearstler
EJ Victor recognized industry-wide for its exquisite quality, service, and value is a locally owned, high-end furniture company located in North Carolina's famous furniture heartland. Priding itself on the craftsmanship of devoted employees with know-how and commitment to building superior furniture, the company culture offers its customers easy access to responsible professionals who possess the information and answers that are needed.
For more than twenty-five years, EJ Victor has built upon its own brand while also becoming a best-in-class licensing partner to premier global lifestyle brand like Ralph Lauren, Kelly Wearstler, Perennials, and Kate Spade New York.
Martyn Lawrence Bullard and Perennials
Martyn Lawrence Bullard is a multi-award-winning Los Angeles-based interior designer renowned for his broad range of styles and eclectic, yet sophisticated and inviting interiors. Martyn has been consistently named as one of the world's top 100 interior designers by Architectural Digest, featured permanently in Elle Decor's A-List, and named one of the top 25 designers by The Hollywood Reporter. A popular television personality, Martyn starred in the hit Bravo series, Million Dollar Decorators and hosted Channel 4's Hollywood Me in the UK, along with a multitude of design television programs spanning over 65 countries.
Since Ann Sutherland, Perennials president, and founder, first searched for luxurious performance fabrics, Perennials has become an industry leader in this category, emphasizing design, color, liveability, and longevity.  Starting with thirty fabrics, in classic stripes and solid colors influenced by nature's colors, the company has grown its offerings to over 800 fabrics, as well as hand-woven and hand-knotted rugs, trimmings, and pillows.  Each 100% solution-dyed acrylic fabric, rug, and trim is guaranteed against fading for three years and will add beauty to living spaces both indoors and out for many seasons.
Nate Berkus and J.J. Martin
Editor and shop owner J.J. Martin has teamed up with Nate Berkus to refinish a series of vintage chairs, which Berkus sells his 1stdibs storefront. Martin, the creative brain behind whimsical-chic retailer LaDoubleJ, matched the seats, which range from the 1970s folding sets to midcentury armchairs, to clothing and accessories in her collection.
It's not just the '60s frames that are storied; their patterns are re-creations of vintage prints spanning the 20th century. Explains Martin: "Each of our 20 chairs is a midcentury Italian original. All have been hunted down by our team in Milan and lovingly re-covered in new polished-cotton fabric printed with a vintage pattern from the Mantero Seta silk archive. The designs were originally used for fashion from the 1920s to '90s, but do wonders to jazz up the aura of a '60s chair today." What's old is new again—and sure to look great in your living room.
Michael S Smith
Launched in 1990, Michael S Smith Inc. has flourished under the visionary leadership of Michael Smith, a seasoned and admired voice in the design industry. Distinguished by a deep respect for tradition filtered through a modern lens, the Michael S Smith ethos is more of a perspective than a definable style.  Michael brings together many talents and elements, often choosing top collaborators, calling on his discerning eye, curatorial knowledge, and multicultural sensibility to weave a harmonious whole for each environment or collection.  Everything under the Michael S Smith Inc umbrella reflects Michael's personal aesthetic.
He takes a similar path in designing the Jasper Collection of fine furniture, fabrics, leathers, wallcoverings, and accessories, letting the designs develop naturally.  Michael's inspiration in the past, informed by the present.  This ability to seamlessly blend the historic and the modern is his particular gift and results in lines designed to enhance and enlighten many types of environments.  The Jasper Collection is available at the Jasper Showroom in Los Angeles and through regional showrooms throughout the US and Europe.
Timothy Corrigan and Fromental
With offices in Paris and Los Angeles, Timothy Corrigan's timeless design philosophy combines European elegance with California comfort. He has been hailed in Architectural Digest as "Today's Tastemaker" and has been named to most of the design world's best designer lists, including the AD100, Elle Decor A-List, Robb Report's Top 40, and the Luxe Gold List. He has received numerous honors including the Institute of Classical Architecture So-Cal Legacy Award, The Design Icon Award, and the Star of Design Award. Timothy is the only  American designer honored by the French Heritage Society for his restoration of several national landmarks in France.
The firm's work is regularly featured on television and in prestigious publications such as Elle Décor, The New York Times, Town & Country, Veranda, House Beautiful, Traditional Home, Luxe Interiors + Design, Vanity Fair, Vogue, and The Wall Street Journal. Clients include royalty, Hollywood celebrities, and corporate leaders. Timothy has designed successful licensed collections with several partners, including Schumacher, PFM, Royal Limoges, THG-Paris, Fromental, and Samuel & Sons. He is currently developing a collection for Perennials.
David Chipperfield and e15
During Milan Design Week 2015, e15 debuted a special collaboration with the renowned British architect David Chipperfield. For e15, David Chipperfield designed a solid wood product family, consisting of table FAYLAND, bench FAWLEY and stool LANGLEY.
Made from solid wood, the constructive details are at the core of the product family's refined and elegant design. With a focus on the essentials, FAYLAND, FAWLEY, and LANGLEY feature the pure use of material and a clear design language, which are shared aesthetics of e15 and David Chipperfield. In addition to European walnut and solid oak in oiled or white pigmented surfaces, e15 also offers a black version, which elegantly highlights the silhouette of the table, bench, and stool.
Kelly Hoppen and Resource Decor
There's not much that Kelly Hoppen hasn't done when it comes to design, from homes, yachts, and jets to commercial projects in several countries, including hotels, restaurants, and offices. Then there is her home interiors range, as well as partnerships with various licensees to offer a staggering variety of fabrics, shutters, paints, scents, furniture, wallpaper, taps, prints and products on QVC UK.
Fittingly, to celebrate 40 sterling years as one of the industry's most highly-lauded interior designers, Hoppen has, in collaboration with Resource Decor, produced an exclusive furniture collection inspired by her life, travels, antiques and her own London home. The collection was in development with Resource Decor over the last year; Hoppen worked with its Studio of Innovation and Design in Vietnam to bring her designs to life.
David Collins Studio and Promemoria
From the gilded, curvaceous interior of Nobu's Mayfair outpost, to the rich, wood-paneled rooms and oxblood leather upholstery of the Art Deco landmark, Claridge's Bar, over the course of his lifetime, the London-based interior designer David Collins put his highly polished stamp on a series of hotels and restaurants across the English capital.
The pieces pay tribute to the garden squares in the municipality's poshest neighborhoods: The Bramham dining chair—a graphic T shape in a series of jewel-toned hues—nods to Bramham Gardens, Collins's former neighborhood, while the leggy Pembridge table recalls Notting Hill's exclusive green space. Rendered in exquisite materials such as leather, velvet, and bronze, each item maintains Collins's high-gloss flair.
Zaha Hadid and David Gil
Zaha Hadid's final furniture collection for London's David Gill Gallery is made of walnut and leather, a reference to vintage furniture from the 50s and 60s. UltraStellar is the last furniture collection that Hadid created for her long-term gallerist and close friend David Gill before she suffered a fatal heart attack at the age of 65.
The collection – finished by her practice, Zaha Hadid Architects – references mid-century furniture through its use of wood rather than Hadid's typical material of choice, clear acrylic. Walnut, chosen for its color, is curved into Hadid's famous fluid and sinuous lines. The designer aimed to create sturdy pieces that appear lightweight.
Jean Nouvel and Roche Bobois
Internationally renowned French architect and winner of many prestigious awards, including the Pritzker Prize in 2008, Jean Nouvel describes himself not as a designer but as an "architect who does design".
As such, a collection based on the essence of forms was born. Focusing on the circle, a symbol of purity, Jean Nouvel created for Roche Bobois a lacquered table and a sideboard-column; creations which are at once mysterious and obvious, whose shapes sculpt and reflect the space that surrounds them. An exceptional collaboration demonstrates the deep-rooted ties between architecture and design.
Phillipe Starck for Cassina
French designer Philippe Starck has created a collection of furniture for Cassina that have been upholstered in Apple Ten Lork, a vegan fabric. A total of 16 pieces designed by Starck for Cassina, including the Volage EX-S sofa, redesigned with thinner armrest, the Privè collection, and the Caprice and Passion chairs, have been covered with Apple Ten Lork.
Each of the pieces is covered with Apple Ten Lork, a vegan alternative to leather, made from apple cores and skins, a biological industrial waste product. It is one of a number of apple skin materials manufactured by Italian company Frumat and comes in white, orange and black colorways.
Tristan Auer for Veronese Paris
Tristan Auer is a trained interior designer, graduate from ESAG in Paris since 1996. He collaborated with Christian Liaigre, then with Philippe Starck for four years during which he worked on numerous projects throughout the world; from Taschen bookstore, rue de Bucci, Paris to the hotel-club for the Trigano family. It was with Christian Liaigre that he produces his first large scale international project: The Mercer Hotel in Soho New York.
Karl Lagerfeld contacted him directly for private residential projects. The Master of rue Cambon also commissioned Tristan Auer with the creation of the new haute-couture salons at the very place of the mythic salons Chanel. He completed the boutique Nina Ricci Avenue Montaigne Paris as well as interior design identity for all the outlets of the famous French couture house. At the same time, he conceived a private residence on the island of Mustique and his first line of furniture.
Tadao Ando and Carl Hansen & SØN
Acclaimed Japanese architect Tadao Ando (b. 1941) bases his work on a strong personal design philosophy that joins Japanese design traditions with modern Western expression.
His original works have earned him a number of prestigious awards, including the Carlsberg Prize in 1992, the Pritzker Architecture Prize in 1995, the Premium Imperiale Award in 1996, and the Royal Institute of British Architects Gold Medal in 1997.
Campana Brothers and Kaws
Brazilian designers Humberto and Fernando Campana have created limited-edition versions of their signature soft-toy seats using designs by American artist Kaws. Presented at Design Miami fair by New York gallery Friedman Benda, the Kaws x Campana collaboration includes two armchairs and a sofa with seats and backs made from soft toys.
The chairs are also immediately identifiable as part of the furniture series that the Campana brothers have been adding to for over a decade. For each design, the São Paulo-based duo combines sets of soft toys – from generic animals to icons like Mickey Mouse – into giant cushions to be sat on. The Campanas are renowned for using unusual and often found, materials to create sculptural furniture pieces – with examples including rope and doormats.
Greg Natale and Stylecraft
Stylecraft, with 60 years in the furniture business, is the go-to place for original and contemporary pieces produced in Australia and around the world. Greg's range continues in this vein, with his vintage-inspired compact sofa collection being the essence of contemporary appeal and livability.
Made in Australia from the finest quality oak by renowned local manufacturer Woodmark, it merges classic lines and modern lifestyle, something that Greg believes is very relevant to the current market. "I wanted this collection to be soft and liveable," he adds. "I love timber, and those angled lines of the fifties really resonate today."
Frank Lloyd Wright and Cassina
Cassina initially acquired the worldwide rights for Frank Lloyd Wright's furniture in 1986, working in close collaboration with the Frank Lloyd Wright Foundation, Scottsdale, Arizona, to develop the characteristic cherry wood pieces for the Cassina I Maestri Collection.
As a tribute to its return to the USA, Cassina presents the Barrel Taliesin model, a more ample version created by Wright himself, which is almost 10% larger than the current Barrel chair. This new version, available in a low gloss finish, is a special edition exclusive to the American market which will be available alongside the classic Barrel chair produced since 1986.
Frank Gehry and Knoll
One of the most celebrated architects of the second half of the 20th century, Frank Gehry has made a career of pushing boundaries and questioning what architecture can do. After studying at UCLA, Gehry pursued his graduate studies at Harvard's Graduate School of Design. He has served on the faculty at Harvard and Yale and is a Fellow of the American Institute of Architects. Gehry was awarded the prestigious Pritzker Architecture Prize in 1972.
Gehry created his bentwood furniture collection for Knoll in 1992. Inspired by the surprising strength of a wooden bushel basket, he sought to fully integrate material and design, creating a structurally and aesthetically light masterpiece.
Jean Louis Deniot and Baker
The collection brings freshness to the Guest Designer Series that contains a range of 80 pieces, including upholstery, lighting, and accessories. Deniot's significant styles are both informal and bold, which are shown in the furniture designs. He, therefore, labels his collection for Baker as 'classic contemporary' or 'futuristic classic', striking a harmonious balance between minimalism and excess.
Deniot made sure that all furniture designs in Baker's collection had the right balance, proportion, and versatility to complement any other decor or furniture whether they were contemporary, vintage or antique styles.
Jacques Garcia and Mcguire Furniture
Internationally renowned designer, Jacques Garcia, has collaborated with McGuire to produce an artful new indoor collection that plays with the proportion and scale of classic silhouettes. An avid antique collector, Garcia is inspired by well-loved forms. Each piece offers superior craftsmanship and enduring quality. The Jacques Garcia Collection brings together the perfect blend of luxury, leisure and timeless sensibility.
Reflecting the designer's gift for proportion and purity of line, The Jacques Garcia Outdoor Collection showcases McGuire's unparalleled ability to bring a vision to life. The collection reflects Garcia's worldwide reputation for creating settings and furnishings that seamlessly combine historic influences, sophisticated forms, and elements from nature. The result is a refined collection replete with strength, character, durability and a lasting sense of style.
Patricia Urquiola and Coalesse
Spanish architect and designer Patricia Urquiola lives in Milan where she runs Studio Urquiola, a firm that focuses on exhibitions, art direction, and architecture. Prior to starting her own company in 2001, she managed the design group Lissoni Associati.
Over the years, Urquiola has worked with many well-known furniture houses, including Moroso, De Padova, Agape, B&B, Alessi, Driade, Foscarini, Kartell, Flos, Molteni, and Artelano. She has received numerous design awards including A&W Designer of the Year and Design Prize Cologne and is sought after as a speaker at conferences and universities across the globe.
Antonio Citterio and Vitra
Antonio Citterio was born in the Italian city of Meda in 1950. He opened his own studio in 1972 and completed his degree in architecture at the Polytechnic University of Milan in 1975. Between 1987 and 1996, he collaborated with Terry Dawn to design many buildings across Europe and Japan. In 2000, Citterio and Patricia Viel formed a multidisciplinary office for architecture, interior design, and graphics. The office operates internationally, developing complex long-term projects in synergy with a qualified network of specialist consultants. The practice is now called 'Antonio Citterio Patricia Viel'.
In addition to his collaboration with Vitra, Antonio Citterio works in the industrial design sector with companies such as Ansorg, Arclinea, Axor/Hansgrohe, B&B Italia, Flexform, Flos, Hermès, Iittala, Kartell, Maxalto, Sanitec (Geberit Group) and Technogym. He has received numerous awards, including the Compasso d'Oro in 1987 and 1995. Citterio served as professor of architecture at the Università della Svizzera Italiana in Mendrisio from 2006 to 2016. He was named 'Royal Designer for Industry' by the London-based Royal Society for the Encouragement of Arts, Manufactures & Commerce in 2008.
Marcel Wanders and Natuzzi
The renowned international designer, Marcel Wanders, collaborated with Natuzzi Italia for the Agronomist Collection, originally inspired by the Puglia landscape, architecture, and lifestyle. For NYCxDESIGN, the collection got a makeover inspired by Gotham City, the fictional alter ego of New York City.
The collection includes the Furrow sofa, the Barrow coffee table, the Crate cabinet, and the Peacock carpet. For NYCxDESIGN, New York's annual design event, the collection got a makeover and took on a new identity inspired by Gotham City, the fictional alter ego of New York City.
Piet Boon
The designer furniture line, Piet Boon Collection (2005), was designed to capture the essence of the Studio Piet Boon identity. Each high-quality designer furniture piece passionately crafted with rich natural materials, attention to detail and refined taste, bearing both aesthetics and intensive use in mind.
The exclusive line for Dining, Living and Outdoor is known for its innovative design, sophisticated and timeless appeal, generous proportions, functional use, and extraordinary comfort. Setting new industry standards with every new collection.
India Mahdavi and Studio ALM
Mahdavi graduated in architecture (DPLG – Paris), industrial design (Copper Union, NYC), graphic design (School of Visual Arts, NYC) and furniture design (Parson's NYC). Mahdavi was born in Tehran to an Egyptian mother and an Iranian father. She shared her childhood between Cambridge (Massachusetts), Heidelberg (Germany), Vence and Paris. Her studio, created in 1999, is known for the diversity of its international projects which explore the fields of architecture, interior design, scenography, furniture, and object design.
Her expanding success leads to Mahdavi working in contribution to Maja Hoffmann. Mahdavi's holistic design sense is embodied in her use of color, inspired by art and her environment, specifically, abstract prints and figurative motifs with pop accents reminiscent of Las Cases, and her use of polychrome is influenced by cinema from her childhood. She made her professional debut with Christian Liaigre, of which she became the artistic director from 1990 to 1997. In 1999, she opened her own studio of creation, rue Las Cases in Paris. In 2003, she launched her first collection of furniture and inaugurated her showroom, 3 rue Las Cases. In 2012, she opened her "Petits Objets" shop, 19 rue Las Cases, a place to promote a palette of traditional craftsmanship and ancestral techniques as well as a "signature" color chart.
---
You should Read: CAN YOU FEEL THE FRENCH VIBES? THIS IS THE NEWEST DELIGHTFULL PROJECT!
---
If you loved our article about This Is What Happens When The Best Interior Designers Collaborate, you can find out all about these decoration inspirations and the best lighting designs with DelightFULL's latest '10 Years of a Delightful Story' Ebook! Visit us also on Pinterest and do not forget to come by every day, we will have the best lighting suggestions for you and your home!