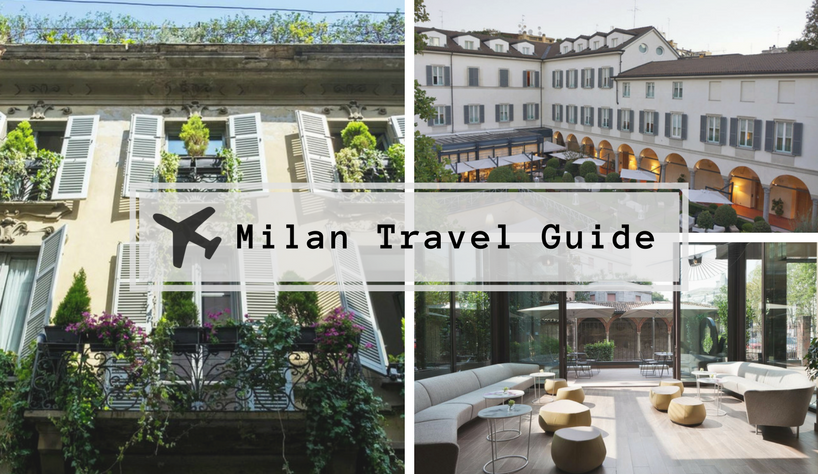 Get ready to be sent to sleep in a heaven on Earth Hotel!
Do you know what time of the year it is? Almost iSaloni 2018 time! Today we are going to give you a part of a Milan City Guide. What is going to happen is: today we're going to give you some tips on what we think are the best hotels to stay. Then, you'll have to wait, in the next week or two, to see what the next tips will be about. Will it be about restaurants? Picture-worthy spots? You'll have to wait to see!
---
Visit Also: HOTELS TO STAY IN NEW YORK WHILE AD SHOW 2018
---
Four Seasons Hotel Milano
This one is a hell of a good choice! Modern, stylish luxury in a 15th-Century monastery with a beautiful cloistered garden. The interior lighting design will give you the vintage vibe but still modern- strange, but so cool!
They have large individually designed bedrooms with luxurious fabrics and opulent marble bathrooms. An excellent gourmet restaurant and fab spa. Though it is seriously luxurious and sophisticated, also a great family choice. As you can see, looks like the perfect place to, not only sleep but also enjoy the Italia style, whatever you go alone or with family.
"Housed in a former 15th-century convent, this five-star hotel has a quiet location in the heart of Milan's shopping district. Suites are set around a tranquil courtyard, while rooms look onto Via Gesù or neighboring private gardens."
Bulgari
This is one of the prettiest that we have in this list! Bulgari is one of the best hotels, where sleek glamour meets opulence and indulgence within Milan's old city walls.
Minimal interior design– black and white marbles, beiges and browns. Chic rooms have teak balconies, some overlooking the stunning 700-year-old garden. Sensational spa, indoor pool, and great food. The favorite haunt of Milan's elite!
"The only hotel with a garden (and there's a gorgeous, peaceful acre of it) within Milan's old city walls, the sophisticated Bulgari, managed by Ritz Carlton hotels, is chic and luxurious. The impressive interior design hints vaguely at '30s minimalism or a sleek ocean liner. However, the bill, by contrast, is sensationally large, as expected."
Town House 31
Elegance and homely charm congregate at this Milanese townhouse with a cool terrace bar perfect for the summer months. This hotel lighting at night looks perfect to deep and long talks through the dawn in the terrace.
A home from home with a touch of zen – cream and brown decoration with splashes of color from Oriental and African rungs and artifacts. Enjoy breakfast on your private balcony. Are you feeling it already? We want to pack our bags and go to Italy so bad!
"We stayed six nights here. The staff was amazing and we really enjoyed ourselves. The room was small, with a little balcony. Breakfast was cool as everyone shared a big, high table. It was altogether a lovely experience. Ten minutes walk from the Duomo. We had a blast."
Antica Locanda Dei Mercanti
Antica is a pretty and centrally hotel located that doesn't break the bank. This old merchant's house, recently renovated, is a contemporary country in style – creams, floral and wood floors. In terms of interior design, you'll see lots of vintage stuff and lighting trends that are rocking. This contrast between the vintage and the modern gives the vibe we're looking for.
The spectacular suites on the top floor have wrought iron four posters and private terraces. A hotel that is hard to come by. The perfect place to stay while you're in iSaloni 2018.
"An elegant Locanda in an 18th-century residential building, which once provided accommodation to merchants passing through Milan. Opt for a terraced room; they have private garden terraces where breakfast can be served on request."
E.C.H.O Milan
The last hotel on this Milan city guide is E.C.H.O. A space of tranquility within the bustling city. With a strong emphasis on sustainability the design is inspired by nature and focuses on green open spaces.
Chic rooms with simple light hues, large windows, and uber modern bathrooms. Organic food served within a vegetable garden. City bliss. Basically, this is a nice and modern place, with beautiful interior design and that worries with the food that you eat.
"This Hotel was a wonderful place for us to spend 1 night before catching an early morning train to Venice. I loved the modern decor throughout the hotel. Our room was quiet and it was really good to open the windows for natural air. Breakfast had lots of hot and cold choices and the Cappuccino coffees were made beautifully. 2 mins walk to Station. Our room faced the Station, what an impressive building inside and outside."
---
Visit Also: MILAN CITY GUIDE: THE MUST-SEE PLACES DURING SALONE DEL MOBILE 2017
---
Find out all about this Spring's lighting inspirations and the best lighting stores with DelightFULL's latest Interior Design Trends: Spring 2017 e-book! Visit us also on Pinterest and do not forget to come by every day, we will have the best lighting suggestions for you and your home!