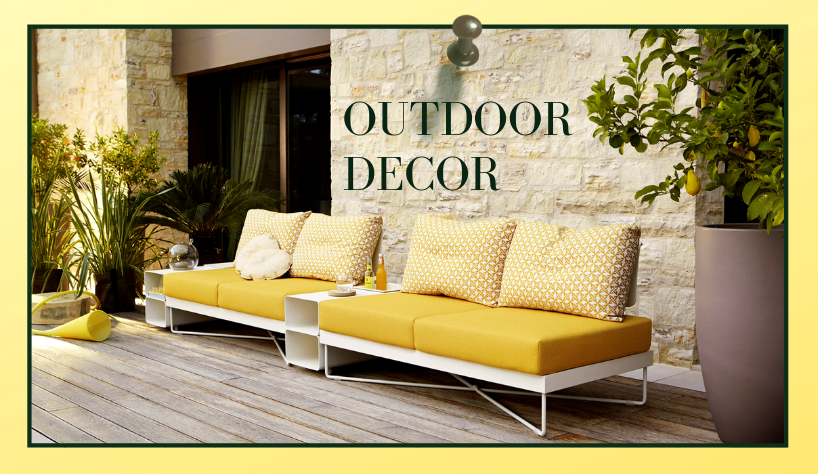 Summer's coming in fast motion, are you getting everything you need to be popping this season?
We're a month and a half away from Summer, so we have to be ready in outfits, mood, and outdoor decor. If your indoor is important? Sure! But is your outdoor more important? Yes! At least for this season. So, if you're not getting ready, don't worry, we got you!
---
Check Out More: WE HAVE THE NEWEST DELIGHTFULL MOODBOARDS TO GET YOU INSPIRED
---
Comfortable seating, vibrant patterns, and an abundance of greenery are a few elements that make for a chic outdoor oasis. Whether you're lucky enough to have a spacious terrace or enjoy the charm of a cozy patio, you're sure to find inspiration in these well-decorated outdoor rooms.
A big trend for Summer 2019 is the Boho/Marrakech courtyard. Cream and teal patterned tiles inject personality into a courtyard in an 18th-century Marrakech Medina. Potted plants, a love seat from a flea market, and custom burlap sofas bring a dose of charm to the outdoor space.
Can you tell us something that looks better than a rustic outdoor? This is a home in Garzón, a quaint village near the southeastern coast of Uruguay, that features rustic accents, including a pair of pendants and a dining table made of Brazilian wood. Your thoughts on this one? We love it!
White-washed wood railings and accents infuse a rustic flair into this Martin Brudnizki-designed terrace that's complete with a floral patterned sofa. The view is not included in this look, but if you have an amazing view, you should take advantage of that!
As we told you yesterday, white is one of the go-to's of the year! A contemporary roof deck doubles as a beautiful outdoor room with a wraparound banquette furnished with white pillows and cushions at a getaway on the Greek island of Antiparos.
A vaulted terrace in fashion designer Johanna Ortiz's South American vacation home is fit for entertaining. The Spanish Colonial dining table is from El Arcon, an antique shop, and the slipcovered chairs are made of a silk ikat.
We have to admit, we would love to have this one for ourselves! A prefabricated greenhouse and garden shed, used for outdoor sleeping and a party pavilion sits on a remote private island in Finland owned by product designer Linda Bergroth's family. The shutters on the glass ceiling allow for temperature control. The floors of the shed are wooden, and it also features a spacious storage area.
It's different than what we have been showing you here, but do you know what this look reminds us? It's all about Israel and Jesus Christ vibes, don't you think? Is really taking us into all those movies. The pergola with built-in benches, created by designer and architect Flavio Albanese for this Italian home, makes for the perfect outdoor area.
If New York is your dream city, what about adopting the city style so you can feel like you're there? Gunn Landscape Architecture crafted the landscape design and built-in banquette on this terrace, which overlooks Gramercy Park in New York. It's easy to attract the vibes we want to our home decor.
In the pool cabana of her family's Southampton, New York, beach house, which was designed by the architecture firm Sawyer Berson, decorator and furniture designer Kelly Behun sited a teak table and chairs by Bonetti Kozerski Studio in front of a stucco wall adorned with staghorn ferns and baskets made in Zambia. The floor is limestone, and the rug is from Morocco.
Fall in love with this idea too! At this Silicon Valley, California home, a marble-topped dining table and teak benches by California Living sit on the sandstone tiled terrace. The side chair is by Lawson-Fenning which is upholstered in a Perennials fabric, and the ceiling is clad in western red cedar.
Editor's Choice
Non-conventional and juicy: here they are, the colorful and extremely communicative graphic lamps made for DelightFULL's new collection. Ideal for hotels and clubs, these: floor, table, and wall fixtures will revolutionize the lighting concepts, arriving in the form of letters, numbers or symbols. Choose your own!
---
Check Out More: TODAY YOU WILL LEARN HOW TO STYLE THIS BEAUTIFUL LIGHTING DESIGN
---
If you loved our article about Is Your Outdoor Decor Ready For The Summer Season?, you can find out all about these decoration inspirations and the best lighting designs with DelightFULL's latest 'The Latest Novelties at Euroluce' Ebook! Visit us also on Pinterest and do not forget to come by every day, we will have the best lighting suggestions for you and your home!