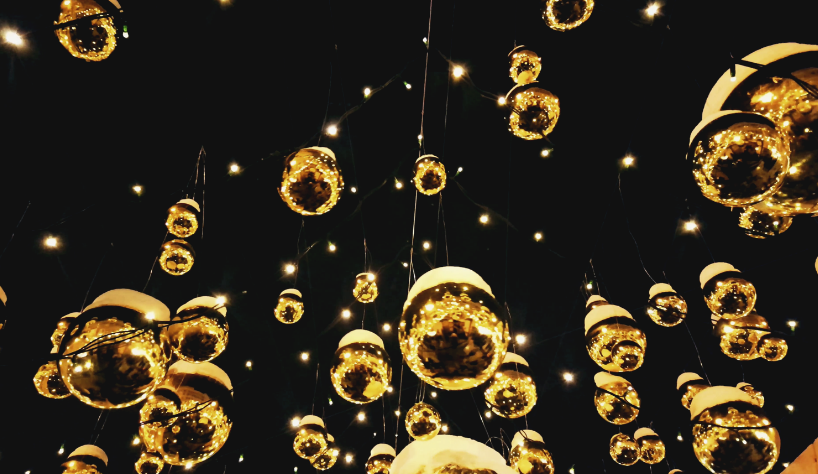 Christmas is our favorite holiday and today we will sparkle it up for you!
Who wants lighting tips for a great and golden Christmas Eve? If you screamed 'me', then keep reading this article! Today we bring you some gold tones for your lighting designs, that will make a statement inside your home. These special pieces will give a more glamorous look to the space, and all your guests will be curious about where did you get it!
---
Christmas Mood On: 20 DAYS TO CHRISTMAS: TOP 10 MOST CHRISTMASSY CITIES IN EUROPE
---
Brubeck Round
Brubeck mid-century modern chandelier is inspired by one of the foremost exponents of cool jazz: Dave Brubeck. This unique lighting design represents the sophistication and finesse of the American jazz pianist, displaying a very luxurious feeling. DelightFULL's skilled artisans handmade this round chandelier in brass, covering it with a gold-plated finish, which can be customized in multiple other finishes. The result of this outstanding creation is a functional dining room chandelier with sculptural shapes.
Botti Suspension
Botti modern chandelier instantly takes us into a music concert starring Chris Botti. The mid-century lighting design was inspired by the American trumpet player as a tribute to jazz music. With a structure handmade in brass and boasting a sophisticated gold-plated finish, this modern ceiling light showcases the high-quality craftsmanship for which DelightFULL is best known for. The brass chandelier goes as tall as 31,5 inches and uses 24 E14 bulbs, which are ingeniously placed at the end of the shades. Its unique shape and design make it the perfect hanging lamp to display on a mid-century modern living room or a sophisticated hotel lobby.
Cannonball
Cannonball light pendant is the perfect explosion of luxury. Inspired by the boldness of a cannonball, this pendant lamp came to reinvent what mid-century modern design is. With its unique shape, this exquisite lamp is handmade in brass and features a gold-plated finish, proof of some of the most high-quality craftsmanship in the lighting design world. Cannonball is a modern brass pendant lamp which will give an elegant and sophisticated touch to your mid-century modern living room.
Clark
With an expressive harmonic beauty, Clark modern pendant light is one of DelightFULL's most iconic pieces. This seemingly minimal lamp is handmade in brass, using the classic method of bending the brass twice into a rounded oblong shape, which allows for a bright cast of light. The standard finish is gold-plated, but it can also be customized in copper, nickel, or even receive an aged brass finish. The pole height is also changeable in order to better fit your decor needs. Clark is a great example of how suspended light can embody all the class of the mid-century modern age. It is the perfect hanging lamp for your modern dining room, mid-century bedroom, or even a hotel bar.
Matheny Chandelier
Feel the true statement of luxury with this modern ceiling lamp. Matheny is a unique chandelier, a new take on the mid-century classics. It has a geometric design of combined tubes and its structure is handmade in brass. Its shape is round and is composed of golden tubes, which reflect the sophistication of a timeless iconic lamp. With 110 pounds, this luxurious chandelier light can be used in a modern living room or as a modern dining room lighting. All in all, Matheny round chandelier will certainly capture the attention of your guests.
---
Christmas Mood On: DON'T KNOW WHAT TO OFFER? THE BEST CHRISTMAS GIFTS, HERE!
---
Find out all about these decoration inspirations and the best lighting designs with DelightFULL's latest Timeless Déco – 2nd ISSUE e-book! Visit us also on Pinterest and do not forget to come by every day, we will have the best lighting suggestions for you and your home!