The DIY Bedroom makeover you have been wishing for!
The bedroom is our sacred place, so we have to cherish it with love. We are here today because we know you need some lighting tips to apply in your room. Bedroom lighting needs to be bright in the morning and intimate and atmospheric at night to provide a romantic sanctuary at the end of the day.  For small rooms, the best way has been side table lamps but other solutions will add drama and atmosphere to your bedroom lighting design. We're about to give you, not only the ideas but also a way to put them in practice. Stay tuned and keep scrolling and find out how to transform your sanctuary into the prettiest bedroom decor.
---
For More Ideas: MUST-KNOW TIPS TO HAVE THE BETTER-LOOKING SMALL BEDROOM DECOR
---
Pendant lights are stylish and space-saving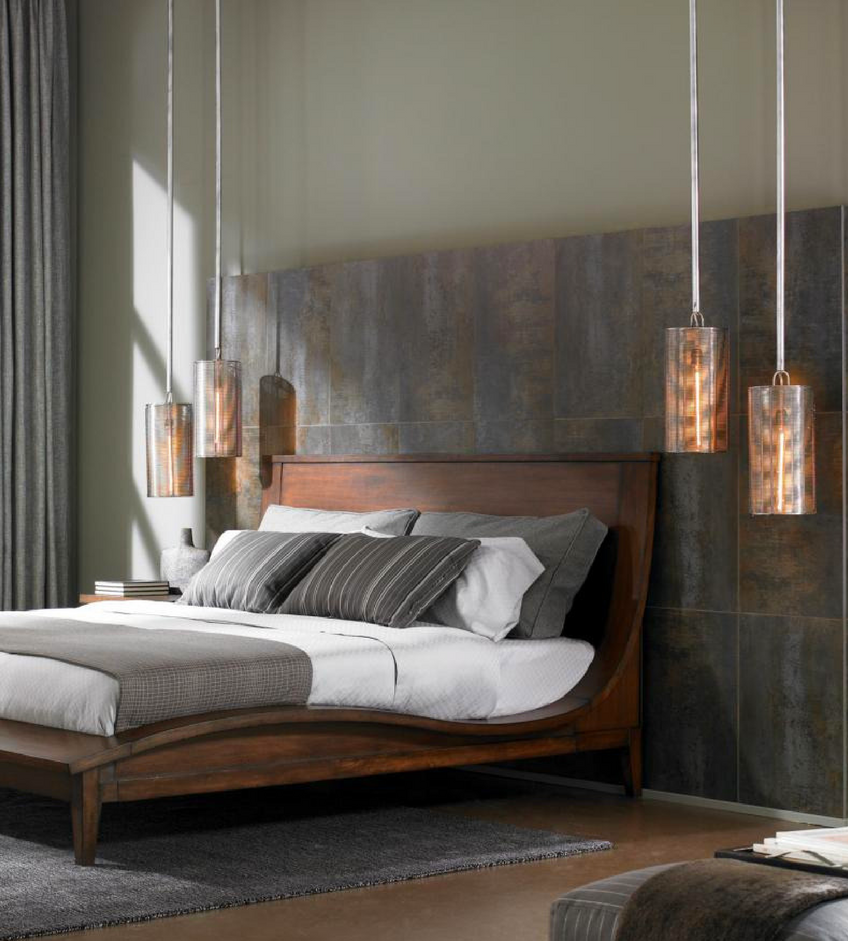 One of the easiest ways to save space on your nightstand is to use pendant lights in place of bedside lamps. Using pendant lighting offers many benefits when it comes to providing versatility. And pendant lighting design is great for adding some pizzazz to a room that was otherwise, well, a bit boring. Pendant lighting used to only be considered for contemporary looks- and it actually gives some mid-century bedroom vibes. However, with today's new designs and styles, pendant lighting can make it easier to add a little accent to any given room. Because it comes in so many different shapes, colors, and styles.
Our suggestion
If you want to recreate the look of this bedroom, we highly recommend this Ike Pendant, a suspension lamp from DelightFULL's Heritage collection. As you can see, it fits perfectly with the look we just show you.
Floor lamps in the bedroom
Every bedroom deserves a comfortable chair and if that chair has a tall floor lamp beside it, like this cute room, you've created a wonderful spot to sit and read, or merely sit and think.  This kind of lamp can transform the whole room because you can use floor lamps to create a romantic mood, to illuminate your favorite spot, provide convenience at bedtime, highlight a dark corner, reinforce the bedroom's theme and even to express your personal style.
Our suggestion
You love this look and you want to make your bedroom similar? We suggest the Miles Floor Lamp from DelightFull's Heritage Collection. This lamp looks like the one above but at the same time, gives the mid-century modern homes vibe. And do you know what's best? You can customize your own piece and make it unique.
Non-traditional chandelier in a Master Bedroom
Although chandeliers are usually traditional, here it's not the case. You can play with big mid-century lighting in your room, without looking too much. Since these are contemporary times, why not style your master bedrooms with such master bedroom lighting fixtures that have trendy looks? The designers of the modern times are inventing newer models with sleeker look and gorgeous built that are seen adorned on the ceilings of most modern bedrooms.
Our Suggestion
To this look that we are trying to create, Lighting Stores suggests Etta Chandelier from DelightFULL, a very luxurious suspension lamp. This will give the contemporary look to your bedroom that you were wishing for, causing that perfect lighting design effect.
Save Space With Wall Sconces
Wall sconces are a great way to save space in a tiny bedroom, like the one shown here. Plus, when the sconce has an adjustable arm, you can focus it right on your reading material, or wherever else you'd like to shine a bit more light. The bedroom truly deserves to look it's very best. Since it's the room where you leave your worries behind and come to rest and recoup, the decor elements should be such that they offer solace and visual delight to your eyes. Bedroom lighting plays an essential part in lending substance and personality to a room's decor, and the right lamps are the best way to enhance a bedroom's beauty.
Our Suggestion
The lamp we are here to suggest you is the closest we get to the picture above. It's from DelightFULL's Heritage Collection, like the other lamps we have been showing you, and it's the amazing Pastorius Wall Lamp.
---
For More Ideas: DO YOU KNOW HOW TO LIGHT UP YOUR CHILDREN BEDROOM? CHECK HERE!
---
If you loved our article about Check Out These Amazing Lighting Tips To Light Up Your Bedroom, you can find out all about these decoration inspirations and the best lighting designs with DelightFULL's latest 'The Latest Novelties at Euroluce' Ebook! Visit us also on Pinterest and do not forget to come by every day, we will have the best lighting suggestions for you and your home!