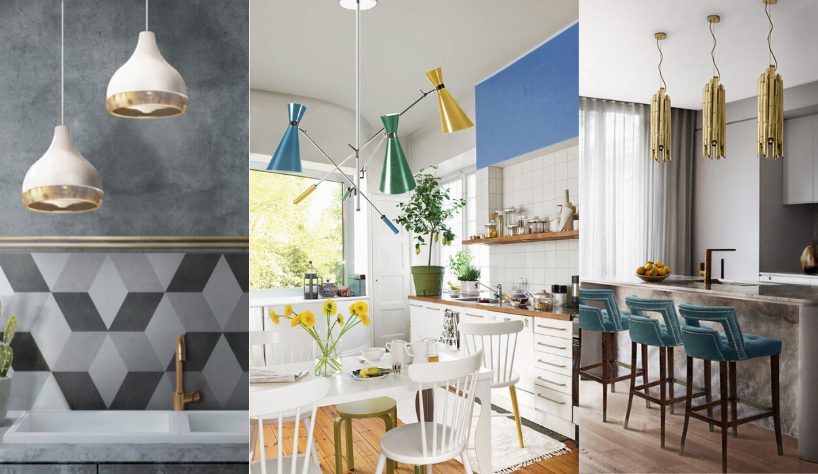 Today we listed five of the best lighting pieces for your kitchen. From pendant lamps to table lamps, simple to excentric, we will give you the needed inspiration to create your dream kitchen to eat and cook like you always fantasize of. Find them now.
---
Read Also: Discover this 5 lighting pieces that will make your home more colorful
---
Saki pendant light is a glossy brass pendant that will create a warm and cosy modern interior design with an exotic touch. Ideal for a kitchen's balcony or bar.
Stanley suspension is a Mid-Century retro lamp, inspired by some of the most iconic lighting designs of the 1960s. It is handmade in brass and aluminum, with a nickel plated finish on the body, and glossy black lacquer on the outer part of lampshades. A modern light that embodies all the best from the from the 50s and 60s interior design style, and will certainly look amazing in any colorful kitchen.
Miranda is a fanciful and gold-colored pineapple table lamp, built in the shape of a classic pineapple, this modern table lamp conveys a sense of hospitality. Finished in gold plated brass, it is the perfect lamp to have in any table or balcony of a kitchen. Not only as a lighting piece but also as an piece of art.
Hanna is a vintage pendant lamp that features a glossy black shade outlined by a copper finish, giving it a lovely contrast. Elegantly made in brass by artisans. Hanna pendant lighting brings together a visually appealing aluminum bell lamp shade and a customizable versatility by way of finishes.
Naicca Pendant Light, a single pendant that represents the legend of crystal origins. The aged brushed brass structure and the Quartz crystal diffuser merge together to brighten any home decor, filling the room with a strong and peaceful atmosphere.
---
Read Also: The Best Lighting Projects of 2019
---
If you loved our article where you can The Best Lighting Pieces For Your Kitchen, you can visit our Pinterest boards in order to get more inspirations for your project! Get more ideas for your projects and find functional, stylish and sizable lighting and furniture choices. Make sure to download our 'Interior Design Tips for a Well-Lit Home' eBook.