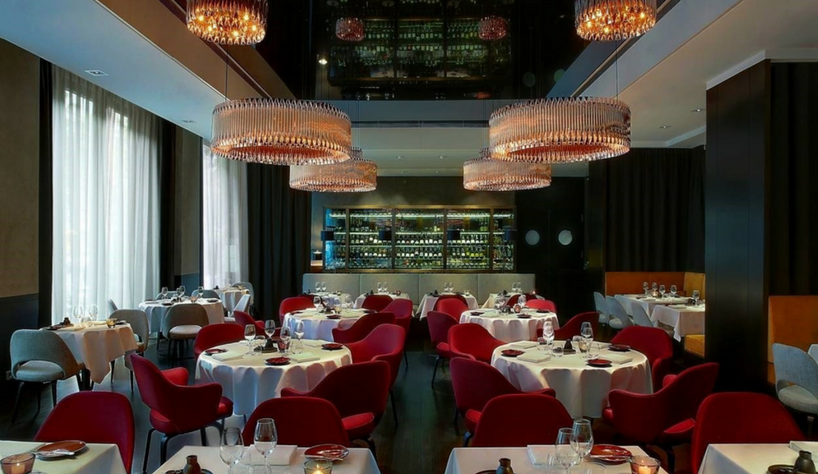 Discover stunning lighting design in the best restaurants of the world.
If you love mid-century modern lighting design you need to see these restaurants. Keep scrolling and get inspired…
---
you might also like: When modern floor lamps are much more than lighting fixtures
---
The restaurants antechambers can create mystery and invite you to visit it. Modern lighting design is a key that changes all interior decoration.  Hannah suspension and Hannah floor lamp are great examples of mid-century lighting.
Luxury and art deco are synonym with this Brubeck wall sconce lighting design. Inspired by the timeless musical instrument that is the pipe organ and one of the foremost exponents of jazz, Dave Brubeck, this luxurious wall sconce is a statement piece on its own. With 13 pounds, Brubeck is composed by a series of handmade brass tubes that are all welded together by hand. For a finishing touch, it boasts a very art deco gold-plated finish. Only 4 G9 bulbs are needed for this modern wall sconce to light up your home, making it the perfect candidate for a maximalist dining room, or even an entryway decor project.
Dave Brubeck was the inspiration for one of DelightFULL's more luxurious floor lamps. The art deco floor lamp represents in every single detail the way the jazz pianist musician blended very demanding rhythmic structures with improvisation in expressive and accessible ways. Therefore, in this lighting design you can find asymmetrical gold plated tubes in order to attribute a contemporary lighting effect. However, you can customize this modern floor light, since there is available a wide range of finishes: gold, nickel or copper plated, brushed brass or nickel, aged brass or any RAL lacquered color of your choosing. The base of this mid-century modern lamp is handmade in steel with a matte black finish. All in all, Brubeck brass floor lamp is a functional and sculptural lighting able to enlighten any setting with its height of 65.7 inches.
Ike suspension lamp has a distinctive but easily recognizable design, ideal for every single mid-century modern interior. With its clean lines, this dazzling lamp is handmade in brass and aluminum and features a glossy black and gold plated finish, representing a high-quality craftsmanship. It is 15 inches tall, but its steel cord can be customizable on purchase, being adjustable up to 39.4 inches. Highly recommended to use with a dimmer switch to cast a smoother light, this modern brass lamp is perfect as a dining room chandelier lighting or to be used in a hotel lobby.
Feel the true statement of luxury with this modern ceiling lamp. Matheny is a unique chandelier, a new take on the mid-century classics. It has a geometric design of combined tubes and its structure is handmade in brass. Its shape is round and is composed by golden tubes, which reflect the sophistication of a timeless iconic lamp.
With 110 pounds, this luxurious chandelier light can be used in a modern living room or as a modern dining room lighting. All in all, Matheny round chandelier will certainly capture the attention of your guests.
Matheny stilnovo floor lamp came to reinvent classic designs with a high aesthetic feeling. Gathering influences from American jazz guitarist Pat Metheny, DelightFULL's designers created a lamp that incorporates elements of progressive, mid-century and contemporary design. Going as tall as 65 inches, this tall floor lamp is composed of geometric golden tubes that reflects the sophistication of the mid 50s. With a structure handmade in brass and gold plated and glossy black finishes, this elegant corner lamp provides high quality craftsmanship. Ideal for a classic living room with a modern design and for hotel projects, place this mid-century floor lamp as a centerpiece of art.
---
you might also like: When modern floor lamps are much more than lighting fixtures
---
Find out all about this Spring's lighting inspirations and the best lighting stores with DelightFULL's latest Interior Design Trends: Spring 2017 e-book! Visit us also on Pinterest and do not forget to come by everyday, we will have the best lighting suggestions for you and your home!