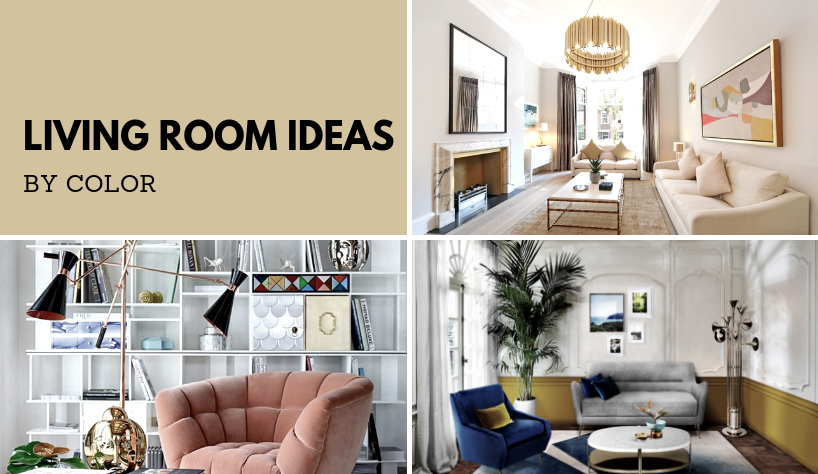 Starting a decoration process it's not always easy, but with our help, it can be easier!
Are you ready for a big transformation? Today you're here to start your Monday feeling inspired by our living room ideas, right? Giving you just ideas would be boring, so we change the game and we are doing it by the color. What's better than a themed living room? Can't wait for you to see!
---
Monday Inspiration: IT SEEMS YOUR BEDROOM DECOR NEEDS OUR HELP, SO HERE WE ARE! 
---
Pantone 627 U | Simone Floor Lamp
What's better than this mix? The perfect color to combine with your back floor lamp, a.k.a Simone. Let's talk about Simone. Inspired by the one and only Nina Simone, DelightFULL designers have taken a classic lighting design and reinterpreted it into a fresh mid-century floor lamp. This unique lamp is a strong statement piece, that cannot go unnoticed wherever it's placed. Simone is a three-light articulating floor lamp with glossy white shades and a structure handmade in brass. With textile red wires above the large lamp shades, this retro light will create the perfect atmosphere for your mid-century modern home. All in all, Simone standing lamp aims to pass on Simone's powerful personality, as well as her bold and warrior features.
Pantone 425 U | Charles Suspension Lamp
Grey is one of the best colors to put inside in your living room, as you can see here. What about this design? A revival of the mid-century modern design classics, Charles contemporary chandelier is a simple lighting design with a lot of character. It features 20 lampshades, all of them handmade in brass, with perforated details on the top. A copper plated finish is applied to the body of the lamp at the end of the process, creating a more contemporary vibe. The shades are lacquered a glossy black on the outside and a matte white on the inside, helping to create a more cozy light to the human eye. This copper pendant lighting can also be customized to have more shades, according to your needs. The right contemporary pendant light for a Scandinavian dining room, or a modern living room design.
Pantone Princess Blue | Botti Floor Lamp
Princess blue meets a mid-century design. Botti floor lamp was inspired by the jazz musician of Chris Botti. The mid-century floor lamp is handmade in brass with a gold plated finish that reminds of a real trumpet due to its unique shape. With an aluminum base, this modern floor light can be customized in marble, giving an even more luxurious design to your mid-century modern interior. This brass floor lamp has eight spotlights which offer soft lighting and goes as tall as 70,9 inches. Botti art deco floor lamp showcases high-quality craftsmanship, that will definitely make a statement in your sophisticated classic living room design or mid-century hotel lobby. Botti contributes a jazzy and mid-century vibe as does the gold plated and white glossy finishes.
Pantone SoyBean | Brubeck Round
Soybean is the way to go for your living room decor. Featuring this amazing lamp. Brubeck mid-century modern chandelier is inspired by one of the foremost exponents of cool jazz: Dave Brubeck. This unique lighting design represents the sophistication and finesse of the American jazz pianist, displaying a very luxurious feeling. DelightFULL's skilled artisans handmade this round chandelier in brass, covering it with a gold-plated finish, which can be customized in multiple other finishes. The result of this outstanding creation is a functional dining room chandelier with sculptural shapes.
Pantone Jester Red | Coltrane Suspension Lamp
Adding depth and intensity, Jester Red combines rich elegance with urbanity. featuring Coltrane, this color can pull the best of your living room design. Coltrane pendant lamp is one of DelightFULL's top best sellers. With a minimalist and industrial feeling to it, it is not, however, hard to understand where the mid-century inspiration lies. Coltrane is a simple suspended ceiling light, which is handmade in steel. It features a steel cord and canopy at the top, while down below the tube is built out of stainless steel, with a gold powder finish. The shade is also made of steel but it is lacquered a matte gold on the outside and a gold powder paint on the inside. An industrial pendant lighting design fit for the most demanding setting, with a seal of high-quality craftsmanship only delivered by the best artisans in the industry. Coltrane is a great mid-century modern lamp for more minimalist home interiors, as well as for contemporary hotel decor.
Pantone Color Of The Year | Stanley

Floor

Lamp
Stanley floor light is a style icon of the fifties and sixties. With the possibility of having 1 to 3 moveable arms, this vintage style floor lamp will add effortless style to your mid-century modern reading nook. The 3-light floor lamp holds three boom arms, creating custom light effects due to its glossy black & matte white lamp shades. Each shade is balanced by a weighted handle. With clean lines and a sculptural shape, this gleaming nickel plated lamp will make you want to curl up with a book in your reading chair under the warm glow of your mid-century reading light.
---
Monday Inspiration: NEW TRENDS: HAPPY INTERNATIONAL WOMEN'S DAY 🌸
---
If you loved our article about Living Room Ideas By Color, Which One Is Your Favorite?, you can if you loved our article about Living Room Ideas By Color, Which One Is Your Favorite?, you can find out all about these decoration inspirations and the best lighting designs with DelightFULL's latest '10 Years of a Delightful Story' Ebook! Visit us also on Pinterest and do not forget to come by every day, we will have the best lighting suggestions for you and your home!