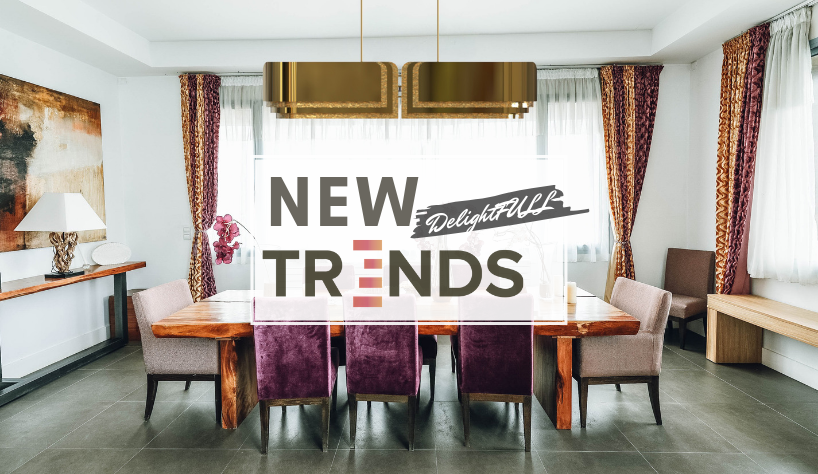 The signature that always brings you the best novelties in the lighting world!
Happy Friday everyone! Today we bring you some novelties with our 'New Trends' signature that we think are worth watching! These new DelightFULL ambiances will make you love this lighting brand even more. Are you ready to get over this Friday the best way possible?
---
Always Trending: NEW TRENDS: THE BEST BLACK INTERIOR DESIGN SPACES
---
Inspired by the American jazz Pianist Dave Brubeck, Brubeck pendant lamp is a great example of when art deco design exceptionally meets music. The result of this outstanding creation is a functional handmade lighting design with a sculptural shape. With a standard body built in brass and a gold-plated finish, this suspension lamp is available in a wide range of finishes: gold, nickel or copper plated, brushed brass or nickel, and aged brass. It is an art deco brass lamp that will give a retro-chic vibe to your new kitchen counter or even mid-century entryway.
Coleman is the ideal mid-century modern floor light to be placed next to any 1950 modern furniture piece as your industrial office couch or desk. The 1 light manageable head floor lamp with matte black and matte white accents has a simplistic and sleek design featuring a black textile cord and a flexible shade. With a classic shape making it fitting for not only Scandinavian style homes, this brass floor lamp will also fit perfectly in every single home design style.
A majestic tall table lamp, Donna has come to redefine everything we have ever seen in the lighting design world. Almost 28 inches high, this brass desk lamp is much more than that. Handmade in brass and Estremoz marble, both the body and the shade received a gold-plated finish in order to emphasize its luxurious characteristics. Probably DelightFULL's most exclusive design, this gold desk lamp features elegant handmade details all around the shade, giving it a Hollywood glamorous feeling. With an exquisite design, it suits any classic entryway or dining room. It is also the perfect table lamp for living room environments.
One of the highlights of the Graphic Collection. Red means fun means passion. With 44 bulbs that can be controlled with an on-off-on switch, which allows you to turn only a few of them on at a time. With a height of 1 meter, this iconic fixture can be placed on the floor or on the wall, only indoors. Making a lasting impression in any of your party ideas this marquee letter design is available in a mini version as well.
Marcus wall light will be the avant-gard piece you'll want in sophisticated home decor. With delicate lighting aftermath, this wall sconce will be the adorning piece in a modern hotel lobby or in a mid-century dining room with a splendid effect. Customizable, this modern wall sconce will give you a timeless aesthetic with a modern feeling.
The welcoming and shiny presence of Sarah Vaughan is present in every single detail you'll find in Vaughan mid-century modern fixture. Aesthetically pleasing, the mid-century lighting design is the perfect choice for a modern dining room as well as a statement figure in a hospitality project. With intricate yet discreet details, this mid-century ceiling light will add a Hollywood glamour with its golden tones and contemporary aura. Vaughan mid-century design is the soothing and unexpected design piece into any project you see fit.
Just like the soft tones of the piano, the Abbey floor lamp is a soothing mid-century floor light that captures the essence of clean lines and luxurious finishes of the mid-century modern style. Slim, sleek and with wit, this black and gold floor light is the perfect option when it comes to getting direct light and creating a stunning lighting effect in your modern home decor. Just like the icon of jazz Abbey Lincoln, this floor light will be your best companion on reading days.
---
Always Trending: TODAY WE'RE GIVING YOU THE BEST CLASSIC HOME DESIGN IDEAS
---
If you loved our article about New Trends: Take A Look At These New DelightFULL Ambiances, you can find out all about these decoration inspirations and the best lighting designs with DelightFULL's latest 'The Latest Novelties at Euroluce' Ebook! Visit us also on Pinterest and do not forget to come by every day, we will have the best lighting suggestions for you and your home!