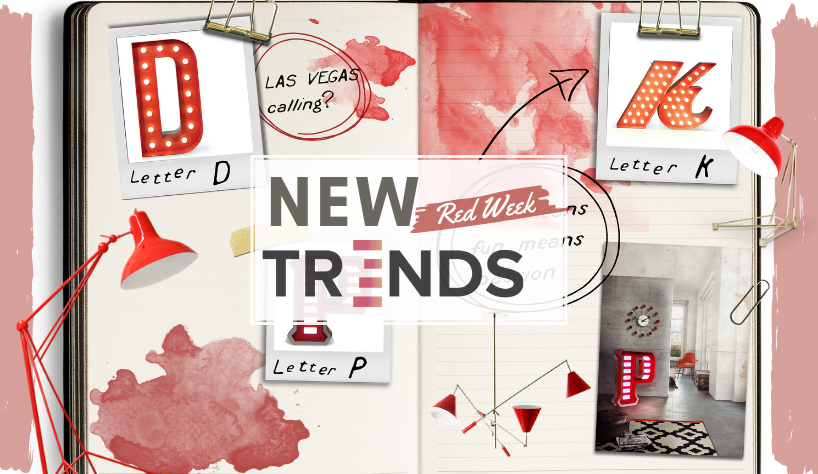 The trending color of the week has a worthy spot on this article!
The red color has been popping a lot here on the blog, that's why we have to consider it a part of our signature New Trends. It's not new that red has a lot of attention not only in interior design and decoration but mostly in fashion and small details. But something that you should know is that the color red has several meanings… Keep reading this article to find out!
---
Always Trending: WHY IS THE COLOR RED SO IMPORTANT THESE DAYS?
---
Red is a very strong color. It is a noticeable color that is often used on signs for signaling caution or warning. Red color meaning is often associated with the word stop. It is a warm color that evokes a strong sense of passion, lust, sex, energy, blood, and war. This color is good at stealing attention from other colors, which is useful in many contexts. It is often used on flags as a symbol of pride and strength.
Color goes beyond appearance but generates an experience. It offers an instantaneous visual way to associate meaning to a particular company or industry, and red is no exception. In fact, red is an attention-grabbing color. It's an energetic and vivid influence within the business world. Here are a few things you should know about red.
We see red everywhere. But what does that mean? In fashion, you wear red to make you stand out or just to make a statement. In case you didn't know, it is the most used color in fashion and in cinema. We can say it is the symbol of life, but also of power, wealth and passion. In fact, you have Louis Vuitton shoes, all that people talk about are those 'red bottoms'.
Also, when we think about a red dress, we can't help thinking about the elegance and refinement of one of the world's most famous fashion House: Valentino. The well-known tailor and designer Valentino Garavani created a new shade that has become the icon of his own mission: Red Valentino, a particularly bright red shade which mixes carmine, purple and cadmium's red. Now you understand all the women desire for red, don't you?
In home decor, red can mean tradition, and also boldness. The style trending these days is the minimalist, with pastel colors, but someone that uses red as a part of their decor means they want to do it differently and can make a statement. The interiors reflect your personality.
In marketing, red is also a way to catch your attention. If you think about the fast food industry, you will quickly realize that dozens of restaurants utilize red. And not only restaurants. Think about DelightFULL for example. Their logo is red, which means they want you to notice them, anywhere you see them.
And we think that's a pretty smart technique to do, do you agree? The idea behind this color usage is that it is attention-grabbing and associated with speed and quickness. And that's the sense DelightFULL wants to bring to its customers. They produce fast and indulge all your needs.
What about red lighting? We know we already talked about this topic here this week, but we noticed that you loved it, so we will give you one more suggestion. What about the Sinatra floor lamp? If you ever find yourself listening to "New York, New York" by Frank Sinatra while drinking a cocktail in a mid-century bar, this lighting design will be there.
A sculptural and versatile creation, the iconic modern floor lamp features three articulating arms handmade in brass that are flexible in a variety of different locations in order to allow you to situate the lights exactly as you need it. It has a height of 70.9 inches and sits on a brass base with a counterweight made in steel for a sleek contemporary style. This task floor lamp exudes a mid-century modern flair that will elevate your art deco interior design.
---
Always Trending: THE RED LIGHTING DESIGNS YOU NEED TO SPICE UP YOUR RED WEEK
---
If you loved our article about New Trends: Red Color Took Over Our Blog Feed This Week!, you can find out all about these decoration inspirations and the best lighting designs with DelightFULL's latest 'The Ultimate Guide – Isaloni 2019' Ebook! Visit us also on Pinterest and do not forget to come by every day, we will have the best lighting suggestions for you and your home!