Now that the year is over, it's time to look back to the best lighting projects of 2019. Get inspired by this various projects, from kitchens to a dining room or to a unique living room , all that with the best lighting ideas so that you can create yourself the most beautiful space.
---
SEE ALSO : Lighting Pieces For Your Luxurious Living Room Décor!
---
This is Botti, a mid-century modern Floor Lamp, with a Stilnovo inspiration. Made in brass this golden plate piece with up to eight lampshades is inspired by the jazz musician of Chris Botti and can fit in any modern design room.
SHOP THE LOOK
Design by : Studio 54
This dining room is from the Design Studio Studia 54 and counts with Galliano II wall lamp, that fits perfectly with the classic style and the room colour scheme.
Read More : Here
SHOP THE LOOK
With a discrete size, Meola Table Lamp is a design that successfully showcases the merge between mid-century table lamps design and the contemporary influences of today's world. It works beautifully as a bedroom or a modern home office table lamp, especially when used as a reading light to be near the bed.
SHOP THE LOOK
One of DelightFULL's most exclusive designs, Donna, a gold table lamp features elegant handmade details all around the shade, giving it a glamorous feeling. With an exquisite design, it is the perfect table lamp for a living room, dining room or just an exclusive bar environment.
SHOP THE LOOK
Design by: Studia 54
Galliano II wall lamps, due to their modern design, perfectly elevate any stylish interior project, just like this living room from Studia 54.
SHOP THE LOOK
Design by: Dela Bartman
Luxurious finishes and a soft lighting effect make Brubeck Round Suspension Lamp a must-have! This chandelier is making a statement in this living room from Dela Bartman.
SHOP THE LOOK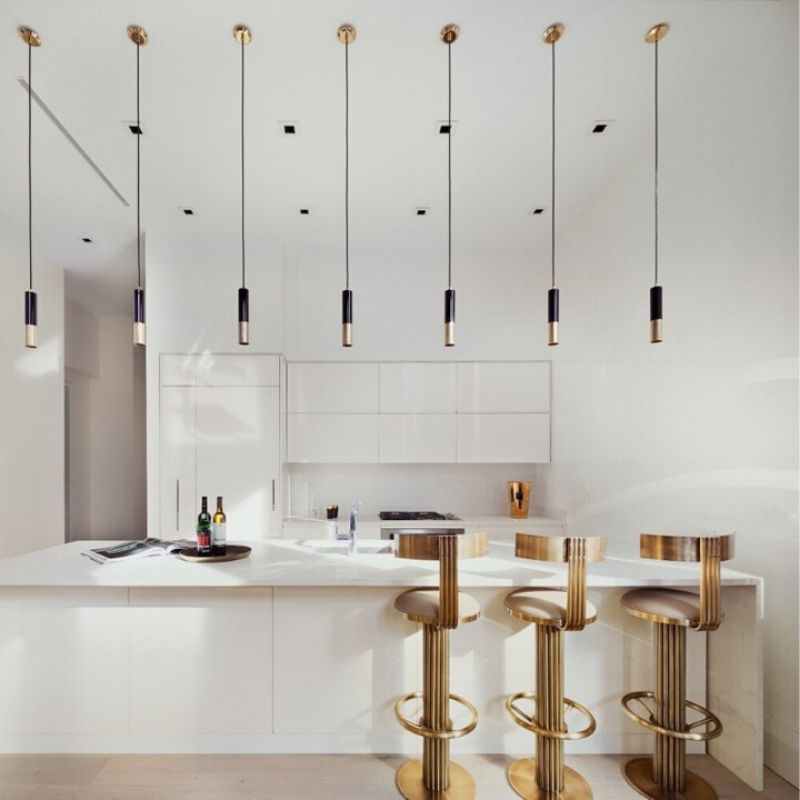 Ike Pendant is a mid-century modern lamp design, this piece adds a modern and industrial feel to any space with his clean lines and neutral colors.
SHOP THE LOOK
This room with Dorsey suspension light, inspired by a mid-century modern lamp design, embodies all the 50's musical culture with a Jazz reference. This lamp creates the perfect ambience with the rest of the furniture in the room.
SHOP THE LOOK
Originally inspired by Nina Simone, one of the most versatile jazz artists of the 20th century, Simone Wall lamp has a sleek and clean design perfect to create a subtle light presence on any room.
SHOP THE LOOK
Design by: Matteo Nunziati
A stunning view from the bedroom of the penthouse at 432 at Park Avenue, New York, designed by Matteo Nunziati with Stanley Floor Lamp as an important corner piece with a mid-century modern lamp design.
Read more: Here
Design by : Dumskaya Design
A living room from the designer Dumskaya Design, where Galliano Round is the pivotal piece of the room fiting perfectly and combining the colours and lights with everything around him.
Design by : Aha Majewska
A simple lamp that can go with pretty much every style, Coltrane Suspension, as seen in this project from Aha Majewska, where as an industrial piece fits perfectly in a more classical scenery.
SHOP THE LOOK
Design by : Matt Kliegman and Carlos Quirarte
This dining room is from the Old Rose Restaurant in New York, it was designed by Matt Kliegman and Carlos Quirarte, and counts with Simone wall to light the room while harmonizing perfectly with the whole environment.
Read More : Here
GET THE LOOK
Design by : Lala Akkiraz Interiors
This hall by Lala Akkiraz Interiors shows a full luxury with both Brubeck Round Suspension on the ceiling and Brubeck Wall Lamp, both lighting the room.
GET THE LOOK
This mid-century modern sconce is easily adjustable when in need of a reading light, making Simone Wall especially ideal as a bedside lamp, or if you are simply looking to light up your hallway or lobby.
GET THE LOOK
---
SEE ALSO : These Hotel Projects Are The Ones You Should Keep An Eye Out
---
If you loved our article about The Best Lighting Projects of 2019, you can visit our Pinterest boards in order to get more inspirations for your project! Get more ideas for your projects and find functional, stylish and sizable lighting and furniture choices. Make sure to download our 'Interior Design Tips for a Well-Lit Home' eBook.