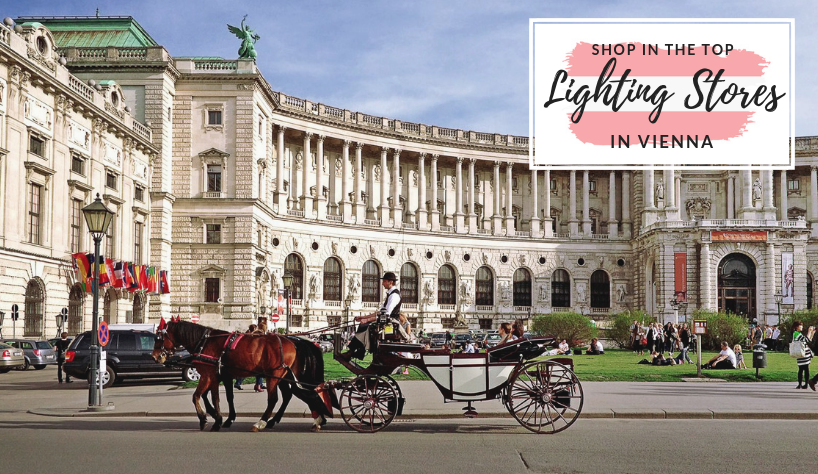 Touring around Europe we go! Welcome to Austria!
As you know, this country and especially this city is known for its quality of life. In lighting designs there is no exception. Today, we present you some of the best lighting stores in Vienna so you can shop some Christmas gifts (and take advantage to know the city, because it's worth it)! Also, some of these stores represent more than lighting: they represent art, so you will fall in love here! Come to take a look!
---
Lighting Stores Around The Globe: BRIGHTEN UP FOR YOU: THE BEST LIGHTING STORES IN MILAN
---
Die Glasfabrik
Glasfabrik is a material culture enthusiast's dream. It is housed in a former glass factory which dates to the period when this area served as Vienna's industrial district. The shop, which is associated with Lichterloh and Matsching's Antikkeller (Liebiggasse 4), operates as an antiques collective and offers a spectrum of pieces in a range of prices. It is comprised of two warehouses that look much as they must have years ago, with scarred concrete floors and a paned glass facade punctuated by huge doors that open on to a courtyard – all the better for loading the many treasures one might find here. Don't miss the chance to visit a beautiful city and bonus great interior design.
Lights of Vienna – Limbek Gesellschaft m.b.H.
Lights of Vienna represents unique design and the most modern lighting technology. The Austrian family business is the global leader in design, decorative, bespoke, high-quality lighting. The custom-made products are manufactured in the company's works near Vienna in Austria. Lights of Vienna is continually expanding its range of products as well as its resources through partner companies in Italy (glass production) and Spain (ambient lighting) as regards materials and production technology. A place you should take a look at, and, who knows, buy a lighting design for your recently decored home.
Habari
Just a few steps from the MuseumsQuartier, barely removed from the chaos of the Mariahilferstrasse, lies Habari, a haven of tranquility that specializes in African art and design. A 720 square meter showroom spans two floors, displaying an impressive range of furniture, home accessories, textiles, jewelry and much more. The name "Habari" comes from a Swahilian phrase that translates to: "Do you have something to tell? Tell, what's new?" Indeed, this massive store is likely to give you quite a bit to talk about, as no fewer than 28 African nations are represented. When we visited, there were some extraordinary limited-edition pieces like the chair made of cow-horn by Senegalese artist Babacar Niang, as well as more proliferated items like the ceramic espresso cups from South Africa, or the tablecloths from Zimbabwe.
KOLARZ GmbH
The home of KOLARZ is Vienna, but their light travels right round the globe reaching this lighting company's partners in more than 50 countries world-wide. Some 3,200 prestigious international department stores such as Harrods of London and Galéries Lafayette in Paris stock KOLARZ lighting as part of their home furnishing collection. With over 4000 lights to choose from they are pleased to offer a comprehensive range and variety of lighting to meet every taste and desire.
Gabarage
With their one-of-a-kind concept store, Gabarage has simultaneously managed to help people in need while creating remarkable products. Founded in 2002 by Gabriele Gottwald-Nathaniel in collaboration with the Anton Proksch Institute, Gabarage helps recovering drug addicts back on their feet by offering them one-year apprenticeships in their production facility. Here, the focus is on re-using discarded materials by "upcycling" them to make furniture, lamps and other home furnishings, as well as accessories like handbags and jewelry. The materials used are very diverse; a lamp shade is constructed out of old 35mm film, while old suitcases are pieced together to make an armchair.
Bananas
Ernst Hahnbauer had been a private collector for years before deciding to open Bananas, a vintage furniture shop in close proximity to Vienna's famed Naschmarkt. One day he simply realized that he could make a living from his penchant for accumulating unusual and used pieces of furniture: enter Bananas. Mr. Hahnbauer's favorite era is the 50s, and he is particularly fond of Scandinavian and "no-name" designers, but by no means limits his offerings to these. The constantly changing stock at Bananas is best described as "a bit of everything" and generally represents a 1930-1980 range.
Woka
WOKA founder Wolfgang Karolinski has always loved the work of design greats like Adolf Loos, Otto Wagner, Kolo Moser and other members of the Wiener Werkstätte community. It was this appreciation for design that prompted Wolfgang to start his own lamp collection after studying at the University for Applied Arts Vienna. At some point in the '70s, a twist of fate brought him into contact with a furniture collector who wanted to sell his vast inventory of Wiener Werkstätte lamps. Not needing to be asked twice, Karolinski acquired the collection and obtained a license to reproduce the originals. Today, WOKA is a specialty store that sells exclusive, limited-edition lamps to customers from Vienna and abroad. Notable clients include the likes of Karl Lagerfeld and Tom Ford. Perfect for your interior design.
---
Lighting Stores Around The Globe: RUNNING TO SHOP: THE TOP 10 LIGHTING STORES IN AMSTERDAM
---
Find out all about these decoration inspirations and the best lighting designs with DelightFULL's latest Timeless Déco – 2nd ISSUE e-book! Visit us also on Pinterest and do not forget to come by every day, we will have the best lighting suggestions for you and your home!