For today, Lighting Stores present The Most Trend Colours to Inspire your Living Room. Enjoy each design inspiration with us!!
When the theme is decorating, where we are to help you.  The living room is undoubtedly one that deserves a special attention. It's in this room where friends gather for long hours of conversation, and where families come together for the most varied activities. We're not just talking about how important it's to choose a great modern sofa, or a unique coffee and side table, or even an outstanding suspension lamp from a famous brand. When decorating, it is important to always keep in mind that the choice of the perfect piece must convey the essence of the house's owners and of those who also will enjoy this very room. SEE ALSO: Explore the best way to you build the perfect mid-century bedroom
This ultra-modern living room gets even more modern thanks to these amazing three lighting ideas: the Diana standing lamp, Diana table lamp, and the huge D Letter neon lamp by DelightFULL
Powerful and modern living room with the coolest Cosmo suspension lamp.
As you can see, the Cosmo suspension lamp, by DelightFULL will be perfect also in a classic living room.
The truth is accurate furniture pieces can create harmonious ambiances as they were thought to perfectly fit together. So, you just need to compose it with your favorite ones.
Here you can see modern pieces with classic inspirations. For a stylish and luxurious atmosphere, we would suggest for example the pieces in this set.
Create an inviting atmosphere with new living room chairs and an outstanding floor lamp.
Here you can check how you can style your living room sofa
What better living room furniture that this gorgeous sideboard? Made of wood, this high-end furniture piece could be exactly what you are looking for your own decor project.
Here you can check how to decorate beautiful a living room with some contemporary furniture pieces. Such a great design idea!
Marvelous mid-century walnut sideboard for living room design with turquoise armchair plus gray rug floor and a gorgeous side table.
This contemporary set includes stunning pieces, everything made by Brabbu, where design really matters.
SAARI velvet sofa was made to bring the glamor to your living room decoration.
Another great decor tip to choose a good sofa is about the color: keep it classy! So get a great sofa such the Brabbu Pearl and surround it with another unique furniture pieces.
BRABBU is a design brand that reflects an intense way of living, bringing fierceness, strength, and power into an urban lifestyle, as you can in this jaw-dropping living room furniture set.
It is also important what kind of sofa you are going to give it, so you know if choosing the marvelous Brabbu Naj sofa can be more expensive but very resistant. Besides, it's definitely a statement piece, don't you think?
Of course, it is not worth having a happy but uncomfortable family room, so we should always try to get elements that generate comfort and comfort such as a good armchair or a spacious sofa, as in this image the BRABBU Pearl sofa.
Transform your living room with this exquisite Coltrane Floor Lamp and honor one of the biggest jazz legends
Coleman Floor Lamp is an excellent solution for your reading corner.
This versatile Cole Floor Lamp is the ideal lighting solution to complete your living room decoration since it matches all styles and is beautifully discrete.
I love this contemporary ambiance, featuring two fine Brubeck Floor Lamps and the elegant Norah Suspension Light by DelightFULL
The living room pictured above features a mixture of styles that are all linked by small golden details. At the center, you have the delicate Konstantin Center Table surrounded by two lovely chairs and the black and white marble Vinicius Side Table by Essential Home. On the ceiling, you have the exquisite Botti Pendant.
Bring some music inspiration into your living room with this stunning Botti Floor Lamp.
Another version of Botti lamp collection is this magnificent Botti Chandelier. So wonderful, isn't it?
Talking about exquisite lamps… This is one of my favorites. Atomic Suspension Light will surely revolutionize your living room decoration
Another excellent suggestion for a reading spot in your living room is this minimalistic Armstrong Floor Lamp, that you can move it according to your needs. It seems so simple, yet features a magnificent white marble foot
I don't get tired of giving you exquisite and bold lighting suggestions. Take a look at the beautiful Aretha Suspension Light pictured above. It's a true piece of art
Honoring the great music legend Amy Winehouse is this unmistakable Amy Floor Lamp, perfectly matched with the sibling Amy Desk Lamp.
Above, you have a stunning luxury living room decorated with several outstanding pieces of furniture, that together make a remarkable set. The mid-century Maree Lounge Sofa stands out by the color and the large size. But it doesn't steal the shine from the set of Eden Center Table by Boca do Lobo. On the wall, you see two Vivre Sconces  by Koket that recall true pieces of jewelry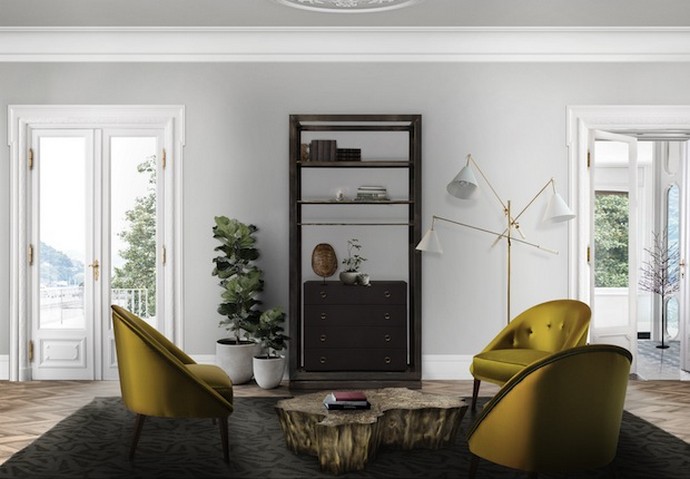 The above living room is decorated with the exquisite Sequoia Center Table, recalling the fierceness of Mother Nature. The relaxation area is completed with three fine Maya Armchairs and the delicate and white Sinatra Floor Lamp
I dare to say that the star of the picture above is the Coleccionista Bookcase by Boca do Lobo but it would be unfair to the stunning silver Aquarius Center Table.
How wonderful and cute is the living room pictured above? On the ceiling, you can see the fine and delicate Gia I Chandelier by KOKET. It's so beautiful, don't you think? I also love the blue and super adorable blue Caprichosa Sofa contrasting with the exquisite and strong nature Patina Eden Center Table. On the right side of the living room, you can see a small detail of the romantic Besame Chair.
For more inspirations, follow Lighting Stores on Facebook, Pinterest, we are here to give you the best interior design inspirations for your design projects!!