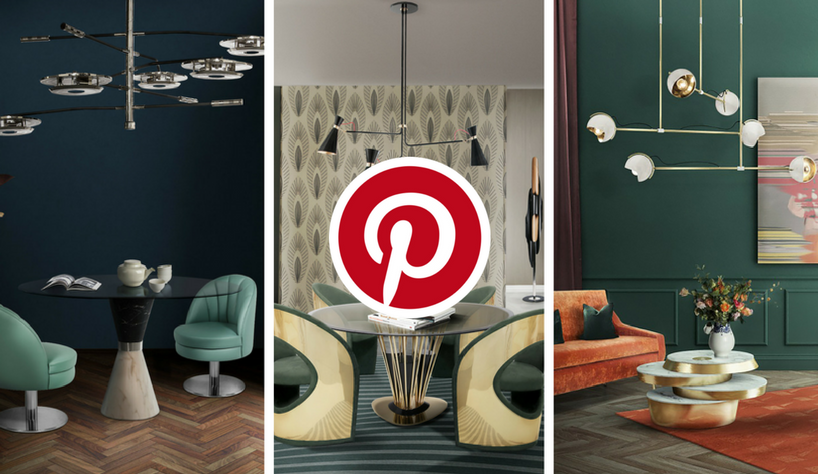 Friday means… Our signature "What's Hot on Pinterest". This time with mid-century lighting ideas you'll love!
Today we are going to show you the most dazzling mid-century lighting ideas. As you might already know, we love mid-century modern design and we believe that this unique home design ideas will help you to renovate your home decor in 2018. Our Pinterest followers have been loving these decor ideas, so what are you waiting for to find out our top 5 ideas for the weekend? Let's keep scrolling!
---
you will also love: Mid-Century Modern Wall Lamps To Die For!
---
Nina Simone was the inspiration for this dazzling mid-century modern chandelier. Handmade in brass, this modern lamp has three lamp shades in aluminum that feature a glossy black finish and three visible textile red wires above the large lamp shades. This retro style chandelier is 35 inches tall and the pole height is 19.7″, but it can be customizable on purchase.

Miles table lamp is a classic mid-century table lamp, which brings back the sophisticated atmosphere of the 50s. It is handmade in brass, with an aluminum shade. The body has a copper plated finish for a more contemporary look, while the shade is lacquered a matte black on the outside and a white matte on the inside. It is essentially a copper table lamp that casts a soft glaze that will suit your modern entryway in the most flattering way.
Inspired by the iconic mid-century era, Hank suspension light brings a graceful, organic shape to any room. Perfect for a mid-century modern interior, this lighting design offers the open look that is a great choice for today's demand for a stylish interior. Its stunning telescopic tube has 27, 5″ | 70 cm and its body is gold plated as its shade with black matte makes this an irresistible selection.
DelightFULL's designers created Laine suspension lamp with the mid-century vibe in mind. Inspired by the iconic era that brought so much culture to the world, this set of spotlights arranged like magic is in your home, this modern ceiling light comes to redefine what mid-century lighting is all about. With its body made of brass and its shade of aluminum, it's simply poetic and extravagantly scenic. Delicate telescopic tubes with its body in gold plated color and its shade in glossy white, it will only add beauty and a classic touch to your interior design.
Basie wall light fixture is a modern representation of the sci-fi aesthetics of the 1960s. The vintage mid-century lamp has a set of distinctive features which make it a stunning statement piece. It is an indoor wall light handmade in brass, with a center shade made of aluminum and a mesmerizing gold-plated standard finish. The lamp shade is lacquered a glossy white for a more modern look. Being the sleek and sophisticated piece that is is, it works beautifully as a decorative wall light in any contemporary entryway or living room.
---
you might also like: When modern floor lamps are much more than lighting fixtures
---
If you loved our article about What's Hot on Pinterest: 5 Mid-Century Lighting Ideas, you can find out all about this Spring's lighting inspirations and the best lighting stores with DelightFULL's latest Interior Design Trends: Spring 2017 e-book! Visit us also on Pinterest and do not forget to come by everyday, we will have the best lighting suggestions for you and your home!
---