Time for a home makeover, or should we say: time for a kitchen makeover?
We have been failing with you when it comes to this topic… But that ends today! You can stop looking in other places. This is where you are going to find the perfect kitchen decor to start your own home makeover. Decorating this house division can be a tough task, that's why today we bring you the tips you have been searching for!
---
You Will Love: NEW TRENDS: TAKE A LOOK AT THESE NEW DELIGHTFULL AMBIANCES
---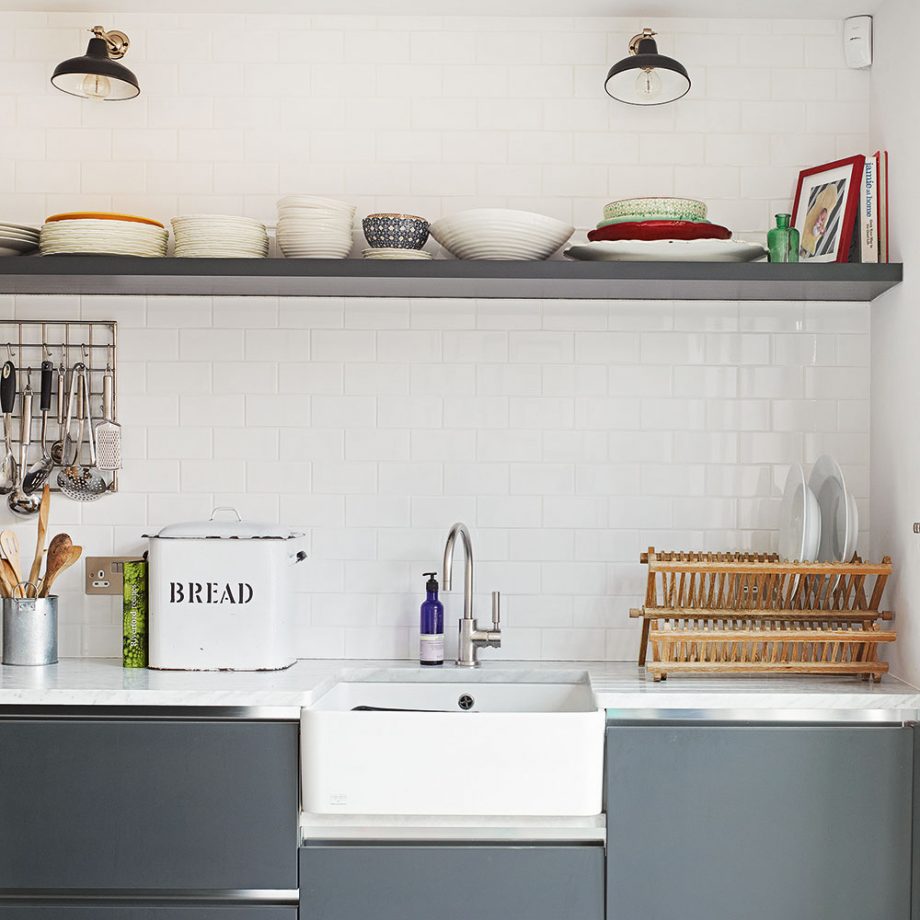 Open shelves are always a look! We love these smart grey units, but using them on the walls, too, might have been a step too far. Instead, a simple grey shelf makes for more casual – even rustic – storage that doesn't make the room seem too dark. Marble worktops, a Belfast sink and worktop-to-ceiling metro tiles in bright white further lighten the mood.
Bringing the Maroco vibe into your kitchen might give life and soul to your space! Feel like you're on holiday all year round with a kitchen inspired by warmer climes. Pinterest data reveals that there has been a 128% rise in searches and saves for Moroccan-inspired decor, so what are you waiting for to get your Maroco kitchen?
See-trough kitchens are a new thing now. Open-plan kitchens have revolutionized the way we cook and entertain, but they do have their niggles. For a start, where do you hide all the dirty pots and pans from dinner guests? So if you're after a little more privacy, the broken plan might be for you. The concept is simple – take an open-plan design but add in a freestanding shelf unit or raised breakfast bar to create separation without the need for a full-on wall.
If your more of a fan of hiding it all, this tip is for you! With the rise of open-plan living, kitchen companies have witnessed a shift towards hidden storage. It features pocket doors that slide seamlessly out of sight when the kitchen is in use but cover up its contents when guests come calling. Seems like a pretty smart idea for us!
Going green in kitchen design can be pretty scary, that is why we suggest you go green on the details. Last year was all about the navy, but expect to see more green in kitchens going forward. It could be in the form of accents, like in wallpaper – palm fronds and botanicals are to 2019 what florals were to the mid-Noughties. Or it can just be adding more plants or even green tiles.
For true drama, go for a really dark shade of grey. This charcoal vignette gives the open plan area a sophisticated, sexy air, disappearing when not wanted, while still being no-nonsense functional and capable of being put to hard work. This actually proofs that grey is one of the most stylish shades going, and can look great in any style of kitchen design.
This one is our favorite, because GUYS, it's all about the island! Choose a Shaker-style island in on-trend blue and create a country kitchen with a very modern twist. This design features a built-in sink, cupboard storage, a marble top, staging-style shelving and one side dedicated to breakfast bar seating. Combine with grey wall units and a range cooker for the perfect mix of classic and contemporary design.
Gold and copper is the way to go. Who says kitchens can't be glamorous? Not us, which is why we expect to see more shimmering metallics this year. Gold and copper will be the stand-out surfaces, giving a luxurious finish to handles, wall tiles, statement lighting, small appliances and even plug sockets. Oh, and gold taps are back, too.
There's a possibility to go vintage on your kitchen too! Remember those railway sleepers everyone used to put in their gardens? Well, now they're creeping into the kitchen design. The chunky proportions make them ideal for craggy, rugged shelving and their solidity works well for a breakfast bar too.
If you have a big space and you don't know what to do with it, this is the right tip for you. If you have space, fill it with a kitchen island. This produces a very modern kitchen design with an expansive countertop that serves as a casual eating spot as well as a practical work surface for food prep.
Editor's Choice
Madeleine Suspension Lamp 
---
You Will Love: TODAY WE'RE GIVING YOU THE BEST CLASSIC HOME DESIGN IDEAS
---
If you enjoyed our article about What's About Kitchen Decor That You Love So Bad? , now you can visit our Pinterest boards in order to get more inspirations. Get more ideas for your projects and find functional, stylish and sizable lighting and furniture choices. Also, let us know your thoughts and leave a comment! You can discover more inspiration about interior and lighting design in the other articles on lighting stores. Make sure to download our 'Interior Design Tips for a Well-Lit Home' eBook!