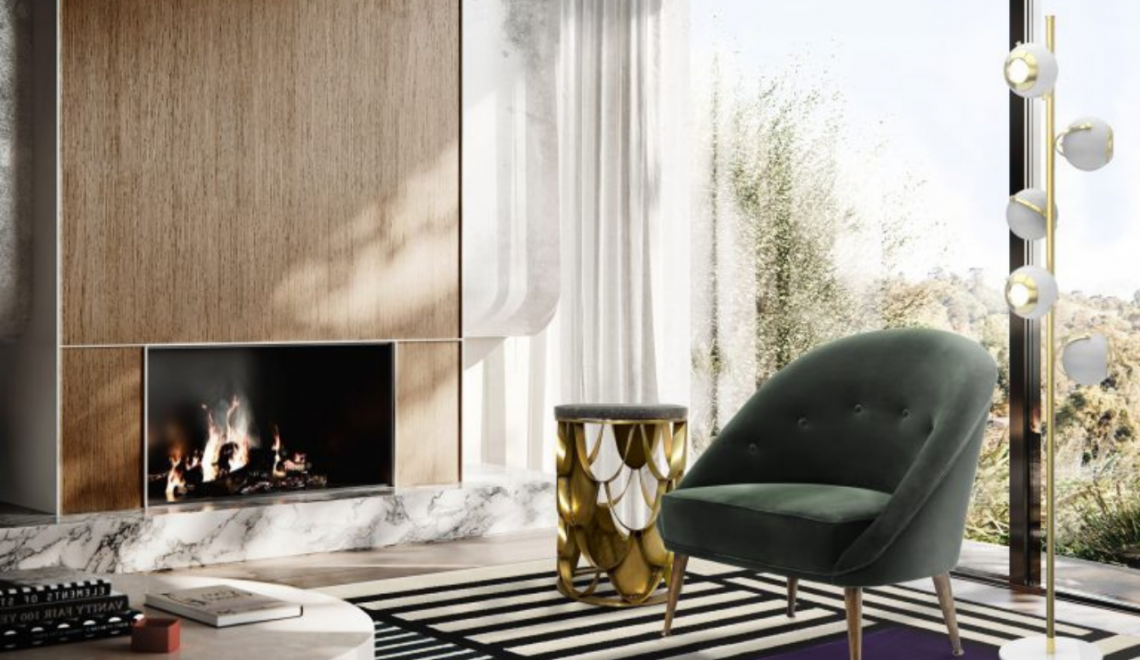 We would all love to have a living room with a floor-to-ceiling windows that flood our home with natural light, however is that not all of us are blessed with it. For those of us furnishing a living room that receives minimal sunlight, a stylish lighting floor is the best thing! Luckily, there are plenty of layouts and fixtures to choose from, and we're sharing the 5 living room floor lighting ideas you need to check right away!
While light fixtures like the aforementioned chandelier might require calling an electrician, floor lamps can be plugged into the outlets you already have. Floor lamps can play both functional and decorative roles since they fall under the task of lighting. For example, you can place a floor lamp in a corner strategically within arm's reach of your couch for convenience.
When selecting a floor lamp that best fits your space and style preferences, consider mid-century floor lighting pieces to avoid overpowering the décor throughtout the rest of your space. DelightFULL is one of our favorite mid-century lighting brands, and today we've selected our top 5 floor lighting pieces you need to have ASAP!
ARMSTRONG FLOOR LAMP
Inspired by the first person to walk on the Moon, Armstrong arc floor lamp has a minimalistic style with a clear usability, perfect for every single modern Scandinavian living room or office. This Nordic light combines a mid-century design with a structure handmade in brass and a base in white Carrara marble. The oval aluminum lamp shade is softened with a matte white finish. Armstrong arc lamp can reach a height of 59.1 inches with the help of the flexible balance arm. With a counterweight made of steel, this mid-century lamp directs light anywhere a task light is needed, providing an exquisite touch to your interior design.
SCOFIELD FLOOR LAMP
Scofield is an unusual floor lamp with five chrome lights all supported by a white brass base. Each light and bracket rotate separately allowing different light focuses. The mid-century modern floor lamp has round lamp shades in aluminum, that can support different activities and create an industrial design in the room. With matte white and a nickel plated finish, the sleek standing lamp can be customized with any RAL color of your choosing, adding a more personalized and welcoming atmosphere to your modern industrial interior design.
COLE FLOOR LAMP
Cole is a retro-inspired floor lamp that has a three-shade design with a glossy black exterior and a matte white interior finishing. The three-cone shades provide plenty of styles as well as flexible lighting. Therefore, these manageable heads Cole ensure maximum lighting, depth and add functionality to every single clean and modern design. With three asymmetrical arms, Cole floor light has a balanced elegance and presence that won't go unnoticed. This mid-century modern lamp provides brilliant light for any vintage industrial office or living space.
TURNER FLOOR LAMP
Turner floor lamp was inspired by Tina Turner's electrifying dance moves. Ideal for any hotel design project, this art deco floor lamp will fit perfectly in a modern lobby entrance or next to a mid-century lounge chair. This mid-century floor lamp has five large arcs made of brass and a semi-spherical top cover of aluminum lacquered in glossy white or any other RAL color of your choosing. With the possibility of rotating its arcs into the desired position, Turner floor light is perfect for anyone looking for a practical lighting design with a cutting-edge design. All in all, this modern corner lamp allows you to create your favorite composition at any time, elevating your mid-century modern decor.
IKE FLOOR LAMP
Strict northern design rules meet a southern taste. Characterized by the rhythmic composition of its elements, minimalist shapes, and clean lines, Ike floor lamp is the result of a collaboration between a Dutch designer and DelightFULL's designer's team. Light up your Nordic style living room, bedroom or office with this 70" minimalist floor lamp. With three changeable lamp shades with glossy black and gold plated finishes, this Scandinavian floor lamp can light multiple areas, making it the perfect addition to your mid-century modern interior. All in all, Ike is an elegant brass floor lamp full of refinement and modernity, providing a warm and inviting tone to any room.
---
READ MORE: My Design Journey: Karim Rashid On His Futuristic Style Signature and Becoming One of The Most Prolific Designers of His Generation
---
If you loved our article about floor lighting ideas, you can visit our Pinterest boards in order to get more inspirations for your project! Get more ideas for your projects and find functional, stylish and sizable lighting and furniture choices. Make sure to download our 'Interior Design Tips for a Well-Lit Home' eBook.