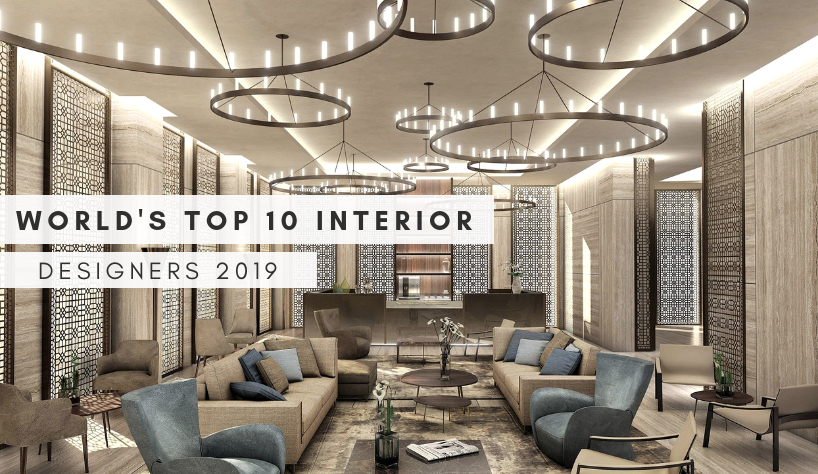 With the year almost coming to an end, it's time to do some rankings!
Architecture and design are not static professions: styles evolve, technologies advance, challenges propel. With the new year coming, we decided it's time to update our list of top 10 interior designers in the world. The following famous interior designers represent a fellowship of standard-bearers whose work is imaginative, intelligent, and inspiring. All of them you probably already know from our previous articles and project galleries.
---
The Best Of The Year: DRESS UP YOUR BEDROOM WITH THESE BEDSIDE TABLE LAMPS
---
Kelly Wearstler
The New Yorker dubbed her "the presiding grande dame of West Coast interior design," but Kelly Wearstler is more rock star than matronly personage. Author, blogger, outré fashion plate, branding virtuoso (from sheets to jewelry), and decorator and muse of the Viceroy and Tides hotels—Wearstler cuts a profile as colorful as those of her clients (Gwen Stefani and Gavin Rossdale, among others). Probably the kind of professional you want to decorate your house design.
ℹ️ Website: kellywearstler.com
Jean-Louis Deniot
Featured on the ELLE Decor and AD 100 lists of the best interior designers in the world, Jean-Louis Deniot has long been in the business of creating atmospheres. His decors are his playground, spaces where spontaneity and magic are de rigueur. Recognized worldwide for his eclectic and emblematic interiors, Jean-Louis Deniot plays in a multiplicity of repertoires, never sticking to purity of style, rather letting his academic training translate into a vocabulary that is both informal and bold. If he does contemporary, it is always with a weighty dose of history and references infused into it to produce a timeless yet timely scenario.
ℹ️ Website: deniot.com
Peter Marino
I want to create the illusion—and the reality—of permanence.
These are not Peter Marino's words; they belong to the late Renzo Mongiardino, one of his biggest inspirations. But Marino's work certainly embodies this wisdom. Like the Italian illusionist, Peter Marino believes in the seamless integration of architecture and home interiors and also happens to be an aesthetic polymath.
ℹ️ Website: petermarinoarchitect.com
David Collins Studio
David Collins Studio combines imagination and creativity to develop a luxury interior design and architectural projects across the globe. Established in 1985 by the late David Collins and celebrating its 33rh anniversary this year, the studio has redefined how people live through a series of bespoke and innovate works, each of which has a definite sense of place.
ℹ️ Website: davidcollins.com
Marcel Wanders
Marcel Wanders is a Dutch designer that got the world's attention in 1996 with his iconic Knotted Chair. Regarded by many as an anomaly in the design world, Marcel has made his mission to:
Create an environment of love, live with passion and make our most exciting dreams come true.
His work excites, provokes, and polarises, but never fails to surprise for its ingenuity, daring and singular quest to uplift the human spirit, and entertain.
ℹ️ Website: marcelwanders.com
Kelly Hoppen
Kelly Hoppen is an English interior designer, author, and proprietor of Kelly Hoppen Interiors. Kelly has a very kind career and is one of the biggest names of Interior Design worldwide. The Jewish and Irish descent designer designs are not only focused in hospitality or residential but also in stunning yachts of private clients, as well in commercial projects all around the world, including restaurants, offices, and aircraft.
ℹ️ Website: kellyhoppen.com
Philippe Starck
Internationally acclaimed French creator, designer, and architect, Philippe Starck is an untiring and rebellious citizen of the world, who considers it his duty to share his ethical and subversive vision of a fairer planet, creates unconventional places and objects whose purpose is to be "good" before being beautiful. Most of his designs have become cult objects, and his hotels are timeless icons that have added a new dimension to the global cityscape. An enthusiastic advocate of sustainability, this visionary recently developed the revolutionary concept of "democratic ecology" by creating affordable wind turbines for the home decor, soon to be followed by innovative wooden prefabricated ecological houses and solar boats.
ℹ️ Website: starck.com
Rockwell Group
Rockwell Group is a 250-person award winning, cross-disciplinary architecture and design practice based in New York City with satellite offices in Madrid and Shanghai. Rockwell Group has many different projects and partnership to be proud of. With global offices to support a far-reaching vision, Rockwell Group is an interdisciplinary firm that emphasizes innovation and thought leadership in every project. They create extraordinary experiences and built environments the world over.
ℹ️ Website: rockwellgroup.com
Victoria Hagan Interiors
Victoria Hagan has long been respected for the intelligent integration of architecture and interior design. Her design philosophy features a refined use of materials, sophisticated color, and strong silhouettes.
ℹ️ Website: victoriahagan.com
Marmol Radziner
Marmol Radziner (founded 1989) is a Los Angeles-based design-build practice founded and led by architects Leo Marmol, FAIA and Ron Radziner, FAIA. The firm offers a full range of design services, including architectural design, programming, master planning, historic restoration, landscape design, interior design, and furniture design. Marmol Radziner specializes in residential, restoration, multifamily, commercial, retail, hospitality, educational, and community projects.
ℹ️ Website: marmol-radziner.com
---
The Best Of The Year: OFFICE DESIGN: TRAIN YOUR BRAIN WITH THE BEST LIGHT YOU CAN GET
---
Find out all about these decoration inspirations and the best lighting designs with DelightFULL's latest Timeless Déco – 2nd ISSUE e-book! Visit us also on Pinterest and do not forget to come by every day, we will have the best lighting suggestions for you and your home!