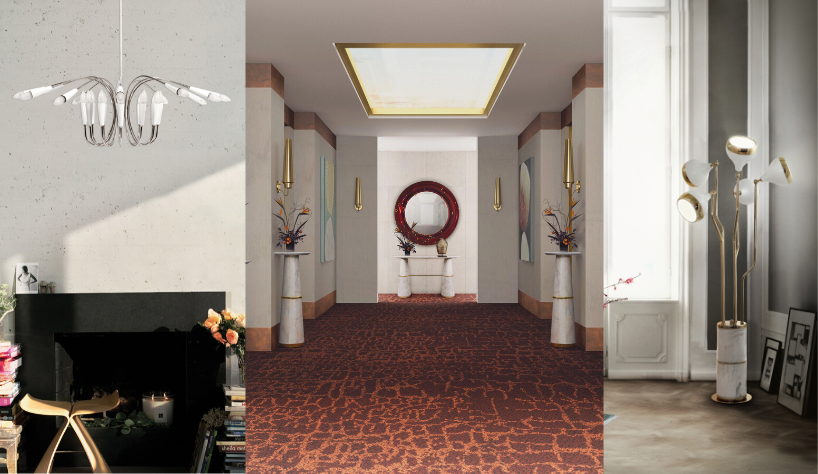 The interior design world has choosen another trend to shine in 2020, aclaimed by many as top trend of this year, the 90% White and 10% other color is a not so new trend in the business however is reaching it's high point now. Today we will be explaining the 90-10 rule a design trend and everything about the also called 90/10 rule, so that maybe you can use it in your home.
---
Read Also: New Trends: Everything About the Industrial Style
---
Using the 90/10 rule is a flawless and easy way to make your own home follow the trends. Basically you have to start off with a room that's 90% white and take 10% of that room and add color, that's not white!
This color points can come in the form of art, décor, or a few key pieces of furniture. Keep in mind that the color elements that you pick, will instantly become a focal point of the room.
The 90% White
It might seems crazy at first sight, but you can't go wrong with white.
White walls, white finishes, and white fabric or leather upholstery are minimalist but with a striking look at the same time, you and your guests will certainly love the clean and airy look. When using 90% white in your home you must make sure that the larger furniture items such as sofas, beds, dressers, or dining sets are all white. Wooden furniture with a crisp white paint finish will be stunning as well. Don't forget to make sure that when choosing white finishes, you stay away from rustic distressed whitewash finishes and go for the smoother white paint or lacquer finish instead.
In addition to wooden furniture, you can also choose white metal or white marble furniture to implement this shade in your living space.
The 10% Color
Now it's time to add some color! After choosing your white furniture, it's time to bring in a shade of your choice. We recommend you only choose one or two colors. Brighter and more vibrant colors such as lime green, yellow, orange, red, pink, aqua blue, and violet work best, but don't be afraid of selecting a darker tone like indigo or a dark yellow. Avoid however to choose neutral tones or pale pastels, but keep in mind that the bolder the better! For our 90% white, 10% color room, we chose a bold orange-red color that brings some warmth to the icy white. Since you can only use 10% color, you must use accents. Ottomans, throw pillows, vases, rugs, and other small accents will help embolden your space with a lively splash of color without detracting from the crisp white.
The Louis Vitton Show
For the magazine ElleDecor, Jon Call from the Mr. Call Designs said "There was a moment while I was watching the Spring/Summer Louis Vuitton show by Virgil Abloh that I though…'THIS is it!' I was inspired by how the collection was built on a foundation of white, but gently unfolded to embrace confident hues with bracing edge. The look was fresh, bold, and youthful. For recent project, I created a bedroom for a young lady that incorporated this trend. Tempered by neutral layers and tons of texture, it's a design that reflects this "of the moment" color recipe while staying true to the personality of the client.".
Our Help
No matter what color you choose, your room will welcome 90% white and 10% color. Perfect for spring, this is a style trend you can't forget. It's so easy to replicate and you will feel like a true interior designer.
We told you how, so is now is time to give you a little help to achieve the perfect 90/10 rule with some amizing lighting pieces that can either follow the 90% percent or the 10%. See them bellow.
White Options
An almost all white lamp, Aretha Suspension will fit perfectly fit in the 90% all white part of your room. This lamp is a contemporary reinterpretation of mid-century lighting design classics that were used in the 50s and 60s. Aretha's body is 100% handmade in brass and the several bulb holders are made of aluminum. Nickel-plated is the standard finish for the body, while glossy white is used for the sockets. Although we are looking for the main white pieces you also chosse Aretha in other colors such as gold and black.
Another full white piece, with a a few gold plated tones on it, this piece will mainly help the 90% white, while also giving a little help to the 10% part. A structure made in polished marble estremoz and with multiple lamp shades made in brass and aluminum, Hanna Floor Lamp is a pure mid-century modern lamp full of grace and charm. Its flexible lamp shades allow you to spread the light anywhere you want it to be.
Color Options
A full gold plated piece that will only be a part of the 10% non-white, with this color, Valki Wall Lamp will be a focus point without being to extravagant and shiny. A contemporary lighting piece in matte brass, versatile and with simple looks.
Cyrus Table Lamp is a gold plated brass lighting piece that would play a major role on the 10% color scheme, the size and simple but luxurious look, will create an amazing room.
---
Read Also: Why Choose Handcrafted Lighting Pieces For Your Home
---
If you loved our article where we were explaining the 90-10 rule a design trend , you can visit our Pinterest boards in order to get more inspirations for your project! Get more ideas for your projects and find functional, stylish and sizable lighting and furniture choices. Make sure to download our 'Interior Design Tips for a Well-Lit Home' eBook.