It's not easy to style it, but our tips will be useful, we promise!
The trend that is been all over social media lately: how to use plants in your bathroom decor. Do you know about the trend for bathroom plants? If not, you clearly you are missing out on something huge! The trend for houseplants in the bathroom was one of the biggest of 2018 and is already set to be one of the trendiest in 2019. Are you curious to see how you can pull it off? Keep scrolling!
---
You May Also Enjoy: WHAT'S HOT ON PINTEREST: THE PERFECT BATHROOM LIGHTING
---
Everyone has witnessed the houseplant explosion over the last year – it's infiltrated high-street stores, who are stocking everything from terrariums and succulents to ponytail palm trees. We're now seeing savvy shoppers buying up to five or six houseplants in one go, instead of investing in soft furnishings and other home accessories.
Explains Ciara Sheridan, Houseplants Buyer at Wyevale Garden Centres. Plants in baskets is another micro-trend for interiors, beautifully demonstrated in the bathroom above.
Stemming from the popular trend of 'bringing the outdoors in', Wyevale Garden Centres reported strong growth in houseplants sold! In addition to looking fabulous, houseplants are known to be good for our health in more ways than one. Firstly, they improve air quality by capturing airborne pollutants, and on another level, they can reduce our stress levels.
The bathroom is a key room where we need an extra chill factor. It's the sanctuary of our homes, a place we can be alone for peace and quiet – to wash away the trials and tribulations of the day.
A statement plant makes an impact in this elegant grey bathroom scheme, don't you think? It's the perfect way to combine the outdoors you would like to have with your amazing bathroom design. Still looks modern and edgier!
This bathroom is fully embracing the trend for plants, they are covering every spare surface and we LOVE it! Looks like while you're taking a bath, you're also traveling in the wild forest!
Colorful plants and feel-good artwork, what more could you ask for to cheer up your bathroom decor?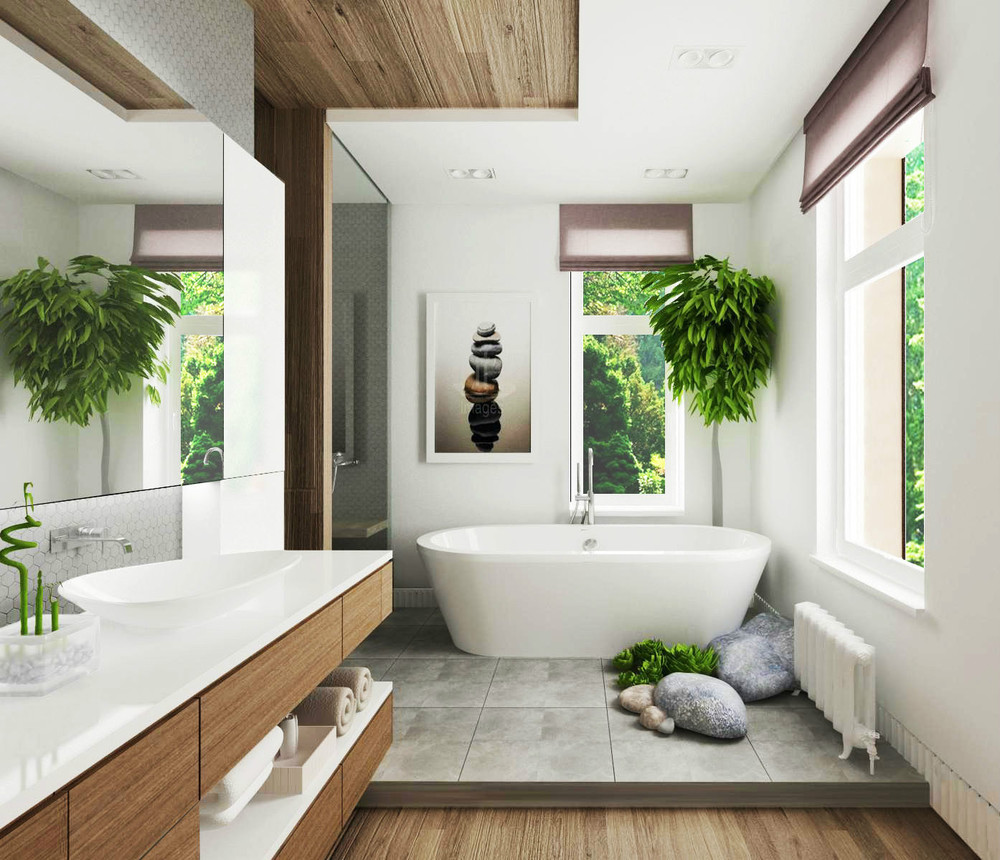 A little imagination can go a long way, as beautifully demonstrated here by hanging on the wall plant display. It's up there for the most imaginative way to display bathroom plants! The last thing you want is a plant pot landing on your head and ruining a relaxing soak in the tub!
Why have one when you can have a whole corner of greenery?! A staggering display, at different heights and in coordinating concrete and metals plant pots, can create a striking feature of your bathroom plants.
Editor's Choice
Hanna is a vintage pendant lamp that features a glossy black shade outlined by a copper finish, giving it a lovely contrast. Elegantly made in brass by artisans who applied delicately an ancient technique called hand metal spinning, if you style this suspension lamp alongside a mid-century decor it will provide your room a striking, elegant look. Hanna pendant lighting brings together a visually appealing aluminum bell lamp shade and a customizable versatility by way of finishes. This one light pendant provides abundant light while adding style. The sleek lines with hints of contemporary flare depict sophistication and grace, making this copper pendant lamp great as a bathroom pendant lighting that perfectly combines with the bathroom plant trend!
---
You May Also Enjoy: FEEL INSPIRED BY THESE BATHROOM TILE TRENDS FOR 2019
---
If you loved our article about the Find Out Now, What Should You Do For Your Bathroom Decor, you can find out all about these decoration inspirations and the best lighting designs with DelightFULL's latest '10 Years of a Delightful Story' Ebook! Visit us also on Pinterest and do not forget to come by every day, we will have the best lighting suggestions for you and your home!