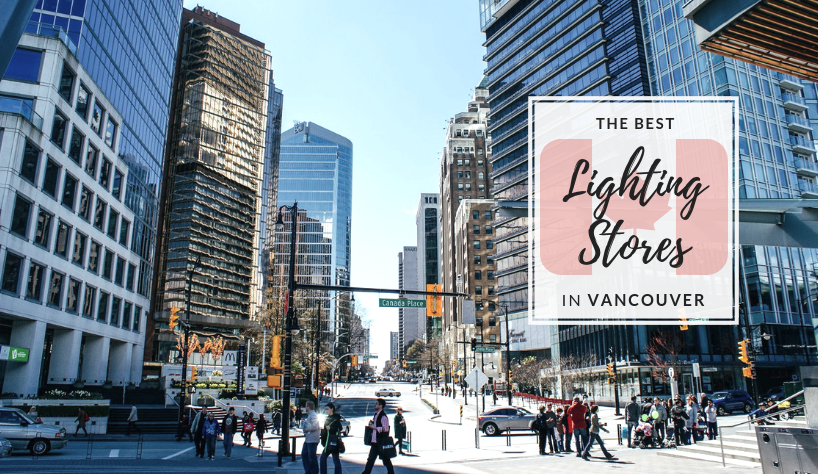 Back at it again with another lighting stores ranking, this time in Vancouver!
In honor of Word Design Summit, we are going to share with you or top 8 favorite lighting stores in Vancouver, Canada. And maybe you have time to visit it once the summit is over. If you are not attending the summit, then enjoy the trip you are about to make, and pack your bags to Canada!
---
Check Out This: DISCOVER HERE THE BEST LIGHTING STORES IN TORONTO
---
Light The Store
Light The Store offers Vancouver's finest selection of contemporary lighting, dimmers, and fans with clean, classic design.  They make the shopping process easier by carefully selecting each item and displaying it clearly.  The main business of this lighting brand is selling residential and commercial lighting and they are known for their service, product knowledge, and experience in lighting design. Curious? Go give them a visit!
📍 2045 West 41st Avenue, Vancouver, B.C. CANADA
Luminosa Light Designs Inc.
Another very good store is Luminosa Light Designs Inc. It's a locally-owned and operated boutique lighting showroom in the heart of Vancouver's Armoury District specialized in unique local and imported luminaries. Their knowledgeable team provides customers with a lighting solution to every style, home, and project. Let them (and us of course) help you make your visions come to life with high-quality and unique products sourced from around the world and from local designers.
📍 Luminosa Light, 1840 Fir Street, Vancouver BC V6J 3B1 CANADA
Light Knights Lighting
Light Knights is your number one lighting installation company with a focus on Christmas and special event lighting services. They go the extra mile to ensure every client is a 100% satisfied and at an affordable rate. Their mission is to provide the best lighting experience to homeowners and businesses in Vancouver and the lower mainland. So when you need someone to get your home ready for Christmas Season, here you have!
📍 2784 Kingsway, Vancouver, BC V5R 5H6 CANADA
Lantern Lighting Company
Lantern Lighting Company is well established within BC lighting industry since 2004. A lamp repair store & full-service lighting company with a specialty of antique chandelier & lamp restoration highly recommended by lighting stores, antique shops, electrical contractors and restoration companies. The store is located in the Kitsilano neighborhood in beautiful Vancouver, BC, Canada, of course. They offer a very competitive retail & commercial price for all product lines especially LED bulbs.
📍 2283 Burrard St., Vancouver, BC V6J3H9 CANADA
LightForm Vancouver
With a keen understanding of lighting's power to influence the ways in which we feel, behave, and event interact, they continuously apply evolving lighting technology to bring shape to the spaces in which they live. Their goal is to educate and inspire Canada's design professionals by employing knowledge gained through years of lighting commercial, residential, and hospitality projects.
📍 425 Carrall St, Vancouver, BC V6B 6E3 CANADA
RENEW Period Lighting
We present you Renew Gallery – Period Lighting and Decorative Arts (formerly Vancouver Architectural Antiques Ltd.). Their website features a huge and diverse collection of Nineteenth and Twentieth-century lighting and home decor and can easily be shopped from your home or office. Specializing in turn of the century lighting and fine antiques, the current showroom is an evolution of a collection that has been in process for nearly forty years. With a worldwide client-base, they help put the finishing touch on any space from Georgian houses to modern condos, they have a collection you simply won't find anywhere else.
📍 11 E 5th Ave, Vancouver, BC V5T 1G7, CANADA
Sage Lighting Ltd
Sage Lighting Ltd. is a manufacturer of leading-edge electronic lighting products. Based in North America, their products are used by major fixture manufacturers and installed in commercial projects around the world. They offer design unique products to fit specialty situations. Among others, they offer one of the best in dimming ballasts for linear and single-ended lamps.
📍 1500 Marine Dr, North Vancouver, BC V7P 1T7 CANADA
Kits Lighting
To help you understand the quality of their service, here's a review from Bethany B, on Yelp:
I had an excellent experience at this business today. Once we established what was needed, the work on disassembling my antique fixture was done with care and meticulousness, at a fair price. I will be back once replating is complete.
📍 1927 W Broadway, Vancouver, BC V6J 1Z3 CANADA
---
Check Out This: TAKE A LOOK AT THE BEST LIGHTING STORES IN LOS ANGELES
---
Find out all about these decoration inspirations and the best lighting designs with DelightFULL's latest Timeless Déco – 2nd ISSUE e-book! Visit us also on Pinterest and do not forget to come by every day, we will have the best lighting suggestions for you and your home!